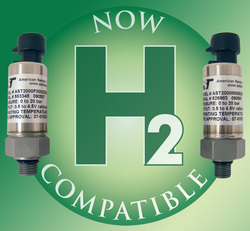 Mount Olive, NJ (PRWEB) September 1, 2009
American Sensor Technologies, Inc. (AST) has released the AST2000H2 pressure sensor / transducer for hydrogen pressure measurement applications. This digitally compensated pressure sensor has the accuracy and construction to meet the expectations of the Hydrogen pressure measurement market. The AST2000H2 is packaged with an SAE-3 or SAE-4 pressure port, 0.5-4.5V Ratiometric output signal, Packard Metripack 150 electrical connection and optional 1% total error band. This pressure sensor is designed for applications including, but not limited to PEM fuel cells, on-board vehicle cylinder pressure measurement, hydrogen regulator pressure measurement, hydrogen filling stations, hydrogen storage containers and test stand equipment.
The AST2000H2 features AST's proprietary Krystal Bond™ Technology pressure sensing element. The thread, hex and diaphragm are all machined from one piece of 316L SS, eliminating the risks associated with other sensor technologies including media compatibility, weld failures, and contamination through an oil-filled cavity. The AST2000H2 was tested to the TUV compatibility standard created by the EIHP (European Integration Hydrogen Program) for Compressed Hydrogen Gas (CGH2) components for on-board vehicle storage systems. The AST2000H2 pressure sensors passed all tests including media compatibility, aging, corrosion resistance, endurance testing, pressure cycling, leakage testing, isolation, noise compatibility, and hydraulic strength. The thick diaphragm of the 900 bar (13,053.4 PSI) pressure sensors not only held the 1,800 bar burst pressure test, but also continued to operate above 2,400 bar until the O-ring extruded.
The AST2000H2 is constructed to meet the environmental conditions associated with hydrogen pressure measurements. The product was also tested and approved by Detroit Testing Laboratories to an environmental test for approval on the Hydrogen HyWay 2/3. Each sensor is packaged with a welded stainless steel housing and sealed Packard Metripack 150 electrical connection. The test batch of sixty (60) pressure sensors was subjected to various shock, vibration, and environmental tests. The sensors withstood thermal, mechanical and drop tests. Environmental testing included humidity storage and cycling, chemical testing, water spray, salt fog, storage temperature, and dust.
The AST2000H2 passed separate electrical environmental tests conducted by Underwriters Laboratories to the Ford ES-XW7T-1A278-AC and Daimler Chrysler DC-10614 EMC (Electro-Magnetic Compatibility) specifications to 300V/m of interference.
The product specifications for the AST2000H2 can be viewed on our website:
http://www.astsensors.com/digitally_compensated_pressure_transducers/AST2000H2
For electronic copies of the test reports featured in this news release, please mailto: info(at)astsensors(dot)com
For information on all AST pressure sensor products, visit:
http://www.astsensors.com/index.php
About AST
American Sensor Technologies, Inc. (AST) manufactures MEMS-based pressure sensors, pressure transducers and pressure transmitters that offer the best price-performance ratio in the industry. Manufactured in New Jersey, AST pressure sensing products are built with a full selection of hazardous area and industrial approvals to service customer applications. Common industries utilizing AST sensor products are industrial OEM hydraulic systems, fuel cells, medical gases, HVAC, refrigeration (ammonia, Freon, CO2), Oil & Gas exploration and production, and off-road vehicles. AST's exclusive, proprietary Krystal Bond™ Technology (an advanced process in which inorganic materials are molecularly diffused onto a metallic surface in the presence of certain gases), produces high-performance pressure sensing products through the use of a single piece of stainless steel. AST offers a variety of UL and CSA approvals for Explosion-proof, Intrinsically Safe, and Non-incendive pressure transmitter applications. For more information on AST pressure sensing products and technology, please visit http://www.astsensors.com. Through the acquisition of noted LVDT manufacturer Macro Sensors (htto://http://www.macrosensors.com), AST also offers a full line of linear/rotary position sensors, as well as related instrumentation.
# # #