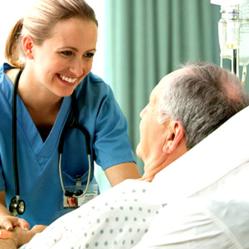 Despite the best efforts of our pressured front line NHS staff, pressure ulcers remain widespread, with some 4968 cases having been reported across England alone.
Bolton, UK (PRWEB UK) 25 February 2013
After a freedom of information request was filed by the BBC, it appears that pressure sores are still a pervasive problem within the NHS [2].
After the Mid Staffs scandal, and the announcement that the resulting probes into high mortality rates in hospitals will be widened from 5 trusts to 14; it could be said that the NHS has taken a kicking of late [5].
This has only been made worse by the news that pressure ulcers, or bed sores, are sill a widespread problem owing to medical negligence.
This isn't to say that it isn't partly deserved. Some of the stories that have been coming through the press detail some horrific tales of vulnerable people having to drink from vases[1] due to the lack of care; where some patients are left for days without being checked[1], where children were having warning systems altered to prevent them from going off regularly as their conditions deteriorated [1].
That said, there is only so much that a drastically reduced frontline of nurses can achieve.
The statistics received by the BBC illustrate that pressure sores, commonly known as bed sores, were still the most common reason for a serious incident being reported; mistakes that have to be reported, for having put the patients at risk [2].
Of almost 12,000 reported incidents contained within the received statistics, 40% were related to pressure sores.
NICE guidelines state that 'at risk' patients should be turned or moved every two hours and should be provided with supportive mattresses to help relieve the pressure [3]. These guidelines also dictate that patients should be properly assessed upon admittance to determine the intensity of care required to prevent pressure ulcer development.
These injuries, whilst serious, are preventable in 95% of cases.
The development of pressure sores then is often attributed to poor standards of care, as it often demonstrates a lack of attention and lack of compliance with best practice guidelines.
Even Florence Nightingale, back in 1859 is alleged to have said that:
"If he has a bedsore, it's generally not the fault of the disease, but of the nursing" [4].
To think that 154 years later, such a preventable problem is so prevalent, particularly with the advancements in medical science and new equipment and training we have at our disposal.
Commenting on the news, Mr John king, Business Development Manager at Asons Solicitors, said that:
"Despite the best efforts of our pressured front line NHS staff, pressure ulcers remain widespread, with some 4968 cases having been reported across England alone. Unfortunately, for those that have been affected by bed sores, the only route to recompense is by making a claim for bed sore damages via a specialist solicitor."
Asons Solicitors advises that where a friend or relative develops a bed sore, they should consult with a medical negligence specialist to help determine whether or not they have been the victim of negligent care. Where poor standards of care are found to be the culprit, they may be eligible to claim pressure ulcer damages to help cover the costs of future treatment.
Pressure sores are a particularly serious injury. Where bony joints place pressure on the soft tissues, skin can break down and the flesh underneath can become further damaged leading to open wounds and deep ulcers. Not only are these very painful, but they also leave the victim prone to infection. Sometimes, this infection can spread to the blood (causing septicaemia or 'blood poisoning') or it can spread to the bone underneath the pressure sore (causing osteomyelitis). In severe cases, a pressure ulcer can cause permanent damage or loss of muscle or bone underneath the affected area of skin. Someone who has had a pressure sore before is more likely to develop a pressure sore in the future.
Pressure sores are easily avoided if the NICE guidelines are implemented correctly. Medical staff are required to perform an initial risk assessment in the first episode of care (within 6 hours). The healthcare professional should check the patient's skin regularly to look for any signs of a pressure ulcer.
For more information on what to do when a pressure ulcer develops, contact Asons Solicitors to find out about what kind of help is available. They can be reached via phone on: 0844 850 1062 or via their claim form at http://www.asons.co.uk.
[1] The allegations about care of babies and children in Bristol cast a dark shadow over the NHS - telegraph.co.uk/health/healthnews/9859728/The-allegations-about-care-of-babies-and-children-in-Bristol-cast-a-dark-shadow-over-the-NHS.html Telegraph - February, 2013
[2] Why bedsores matter more than reforms - bbc.co.uk/news/health-21059567 – BBC, January, 2013
[3] Nice Guidelines: Pressure Ulcers – Prevention and Treatment - nice.org.uk/nicemedia/pdf/CG029publicinfo.pdf

[4] Nightingale, Florence. Notes on nursing: what it is, and what it is not. New York: D Appleton and Company; 1860.
[5] "Mid Staffs: 14 hospitals under investigation" - telegraph.co.uk, 12th Feb 2013:
telegraph.co.uk/health/healthnews/9863060/Mid-Staffs-14-hospitals-under-investigation.html
About Asons Solicitors:
Asons Solicitors is a Bolton-based law practice that specialises in personal injury and medical negligence claims. Founded by brothers Imran Akram and Kamran Akram, Asons Solicitors has developed to become a young and dynamic law firm that delivers practical solutions to clients in times of difficulty. Their continued focus on their staff has seen them awarded with the Investors in People "Gold Award"; which is reflected in the professional and personable approach they take in working with clients. They strive to grow and to develop, and their supportiveness and attention to detail ensures that their clients use them time and again.
For further information contact:
Email: info (at) asons (dot) co.uk
Website: http://www.asons.co.uk