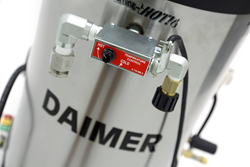 Daimer® is proud to offer a machine that is so compact and portable, but yet offers the outstanding temperatures needed to tackle some of the industry's most difficult and challenging cleaning tasks. The Super Max™ 9000's high-pressure ...
Woburn, MA (PRWEB) February 04, 2013
Daimer Industries, Inc.®, the globally reputed American supplier of electric pressure washer machines, gas pressure washer systems, and other types of power washing models marketed towards many hundreds of industries, is offering its Super Max™ 9000, a tri-mode pressure washer with steam temperatures up to 250ºF and a pressure level of 1500 psi at flow rates of 2.8 gpm.
Hot pressurized steam, when applied on surfaces, dissolves even the toughest dirt deposits of grease, food, and more. The machine is versatile and perfect for many applications, such as cleaning large commercial drums in which oil and grease are stored, maintaining commercial kitchens, cleaning industrial machinery and areas within food processing plants, and more. The applications are virtually unlimited.
"Commercial drum cleaning is not an easy task. The traditional cleaning technique of scrubbing and washing with hoses and cold water is time-consuming and inefficient. These drums are generally used to store oil and grease or even food products, and can only be cleaned thoroughly and swiftly by superior machines with enhanced cleaning power," states Matthew Baratta, Daimer Industries, Inc.® spokesperson. "Daimer® is proud to offer a machine that is so compact and portable, but yet offers the outstanding temperatures needed to tackle some of the industry's most difficult and challenging cleaning tasks. The Super Max™ 9000's high-pressure, stainless steel heater exchange coil within the commercial pressure washer can heat water to highly effective steam temperatures within approximately 30 seconds."
Daimer® is proud to offer pressure washing equipment made in the United States using only 100% American employees. The company's ownership and management are all strictly Americans as well. Buyers in the U.S., Canada, and other parts of the world desire the best U.S. brands, including those from companies like Daimer®. Every product contains only the best components and parts, and all systems are tested extensively before shipment to customers in 240+ nations across the globe. The company is well known for supplying high grade car wash equipment and products for many other industries.
Daimer®'s Super Max™ 9000 hot water pressure washer features the company's very important and exclusive Steam Nozzle Optimized™ (SNO™) technology that allows for the emission of wet steam through all nozzles, from 0º (blast), 15º, 25º or 40º, unlike machines from other brands that offer only one wet steam nozzle. Steam, when ejected in different spray patterns, makes the machine flexible for various cleaning tasks.
Since the industrial pressure washer is heated by propane, it can be used for both indoor and outdoor applications. It meets the USDA standards for fuel emissions. Daimer®'s Adjustable Temperature Control™ (ATC™) technology in its pressure washer systems controls the ejection of temperature. Users can easily adjust the temperature flow, according to their cleaning needs. For example, hot water temperatures between 180ºF and 210ºF can be used for routine cleaning applications, whereas temperatures as high as 250ºF can be set for difficult applications like grease removal.
In addition, the company's Thermal Optimized Projection Steam™ (TOPS™) technology makes the pressure cleaner generate higher temperature steam flow, as compared to other steam cleaners on the market. Daimer®'s TOPS™ and Super-Hot™ technologies offer much quicker cleaning performance and reduced water usage for eco-friendly cleaning than systems offered by other brands.
Daimer® commercial pressure washer like the Super Max™ 9000 also feature two very important technologies, Modular System Design™ (MDS™) and Self-Maintenance Engineering™ (SME™), that make the replacement of parts easy, in rare cases, when necessary. It saves Daimer® customers the hassle of sending the machine back to the company for repair. Only the best pressure washer brands offer equipment that can be self-maintained, and Daimer® is unrivaled in that regard.
All these technologies and other exclusive technologies embedded in Daimer®'s pressure washer systems are highly attractive to customers all around the world. Buyers are excited to purchase the best American produced products with exceptional high cleaning power durability. Another important feature is the company's Automatic-Shutoff Technology™ (AST™) technology, which is offered as an optional feature, shuts down the machine when it is not in use for over 30 seconds.
Daimer®'s Long Hose Technology™ (LHT™) offers continuous high power even when hoses as long as 300 feet are used. The AST™ ends the need for users to take a long walk to and from the system just to power it on and off. The system gets powered on when users pull the trigger gun. The end result is the maximization of operator productivity.
The Super Max™ 9000 propane electric pressure washer, with a heavy-duty 3 HP – NEMA engine, comes standard with 220V-240V, single phase, 60 Hz power. Optional power methods of 220V-240V, single phase, 50 Hz; 220V-240V three phase, 50 or 60 Hz; & 440V, three phase, 50 or 60 Hz are also available.
Accessories available with the hot water pressure washer include a durable 3' trigger wand with quick disconnect and a 25' high pressure steam hose. Daimer® offers its users an option for purchase pressure steam hoses of customizable lengths, as per their needs.
For Additional Information:
Discover more about the Super Max™ 9000 pressure cleaner by visiting Daimer®'s website, or by calling Matthew Baratta directly at (888) 507-2220. The machines are exported to most countries worldwide.
About Daimer Industries, Inc.®:
Daimer Industries, Inc.® is the world's leading American brand of more than 700 models of cleaning systems with advanced technologies used for a variety of applications. The machines, such as gas pressure washer systems, hard floor cleaners, gum removers, car detailing machines, mobile car wash machines, tile and grout cleaners, and steam vacuum cleaners, are shipped to over 240 nations across the globe.