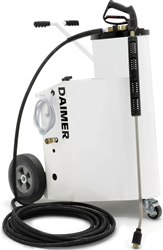 Daimer® is happy to present the best winery cleaning equipment in the form of the Super Max™ 6000, which in addition to high temperature and pressure, also features tri-mode temperatures...
Woburn, MA (PRWEB) June 13, 2013
Daimer Industries, Inc.®, the universally reputed American supplier of power-rich auto detailing systems, gas pressure washer machines, and other heavy-duty equipment, has launched the Super Max™ 6000 pressure washer system to help wineries clean instruments, floors, tiles, barrels, and other items as well as surfaces. As the leading brand of over 700 models of cleaning systems for sale within the U.S. and internationally, Daimer® offers many pressure washer systems in its line. The Super Max™ 6000 is the latest in the series of powerful, efficient, durable commercial pressure washer machines to help cleaning personnel clean wineries.
One of the biggest advantages of the Super Max™ 6000 is its ability to clean well at a relatively low pressure level and low flow rate. This machine attains pressure levels of 750 psi at a flow rate of 1.4 gpm, sufficient enough for cleaning wineries. The fact the system generates temperatures up to 330°F contribute to its outstanding cleaning power.
In areas where drainage might be a problem, Daimer®'s machines are very useful. They do not consume or emit too much water and, therefore, the likelihood of drainage problems is minimal. The low flow rates are also beneficial to the environment as well.
"Only a high grade commercial pressure washer designed to operate under rigorous conditions can clean commercial facilities, including wineries, very thoroughly," states Matthew Baratta, spokesman of Daimer Industries, Inc.®. "Daimer® is happy to present the best winery cleaning equipment in the form of the Super Max™ 6000, which in addition to high temperature and pressure, also features tri-mode temperatures, stainless steel heating coils, safer propane heat, and innovative technologies. The machine's optional Automatic-Shutoff Technology™ (AST™) automatically powers off the system when left idle for 30+ seconds, the Adjustable Temperature Control™ (ATC™) helps control the temperature, and the Long Hose Technology™ (LHT™) offers optimum power while using long hoses."
A safer heating method is an important consideration for wineries, due to more stringent safety regulations. Winery cleaning crews often prefer a 110 volt electric pressure washer because of its wide availability within the facility. A top-grade electric pressure washer can be used indoors as well as outdoors, unlike a professional gas pressure washer that generates noxious exhaust and requires special precautions for indoor use. The Super Max™ 6000 requires only a 110 volt power cord and includes a propane heating system, which is more environmentally preferable because it is one of the cleanest fuels allowed for indoor use.
One of the key requirements of a pressure wash system, particularly a hot water pressure washer, is the removal of build-up from barrels, vats, tanks, and trucks used in wineries. A high tech hot water pressure washer quickly softens and washes away wine, grape residue, and most other substances. This is an important step towards ensuring cleanliness in wine-producing establishments.
Heat is effective in killing fungi of many kinds. It also helps remove grease, sugars, yeast, and other grime and impurities. The Super Max™ 6000 heats water to 330°F in as little as 30 seconds. The portable industrial pressure washer system's Super-Hot™ and Thermal Optimized Projection Steam™ (TOPS™) technologies help in the emission of thick and forceful steam for efficient cleaning.
Durability is enhanced by the use of high-quality components. The Super Max™ 6000's stainless steel heating coil, as opposed to ordinary aluminum coils, is much more durable and withstands high temperatures and pressure levels. The corrosion resistant machine's housing is another reason that makes the Super Max™ 6000 one of the best pressure washer systems in the industry.
Daimer® offers its machines in various power combinations for domestic and international use. The Super Max™ 6000 comes with a standard power method of 110V-120V, single phase, 60 Hz. Optional power methods include 110V-120V, single phase, 50 Hz; 220-240V, single phase, 50 or 60 Hz; 220V-240V three phase, 50 or 60 Hz; and 440V, three phase, 50 or 60 Hz. Accessories included with the machine are a durable 3' trigger wand with quick disconnect, 0º (blast), 15º, 25º, 40º, steam nozzles, and a 25' high pressure steam hose. The top-level pressure washer includes Steam Nozzle Optimized™ (SNO™) technology, which allows for the emission of wet steam through all the nozzles.
Daimer®'s Modular System Design™ (MDS™) and Self-Maintenance Engineering™ (SME™) technologies, designed within all of its Super Max™ machines, allow customers to easily replace the parts, when required, in rare cases anywhere in the world.
For Additional Information:
Call Matthew Baratta at (888) 507-2220 or visit the company's website to discover more about the Super Max™ 6000. The systems are shipped to most countries globally.
About Daimer Industries, Inc.®:
Daimer Industries, Inc.® is a famous American brand supplying cleaning machines with superior technologies. Daimer's systems, including hard surface cleaners, pressure cleaners, a variety of popular car wash equipment, and more, are exported to over 240 countries. The products are highly popular with many businesses and within many industries in the U.S.A. and globally.