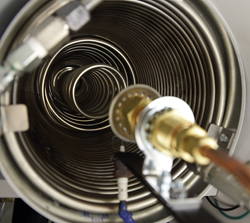 Daimer® is excited to launch the Super Max™ 7000 with our newest hand-rolled stainless coils. The system offers outstanding temperatures up to 330ºF and pressure of 1000 psi. The propane electric pressure washer machine offers a greener way to achieve ...
Woburn, MA (PRWEB) December 29, 2012
Daimer Industries, Inc.®, the industry's most recognized American brand known for its excellent workmanship of a large assortment of commercial and industrial-grade cleaner equipment, including over 700 models of among the industry's most powerful and feature-rich pressure washer systems, state-of-the-art gas pressure washer machines, diversified car wash machines, portable vapor steam cleaner systems, patented hard surface cleaning machines, and other technologies, is shipping the newer Super Max™ 7000, which features high pressure, and even more sophisticated and durable stainless steel heater exchange coils.
The best industrial pressure washer machines include coils that are composed of stainless steel for longer-lasting use and higher temperatures. The equipment is capable of withstanding the rigors of some of the most difficult and challenging commercial cleaning tasks.
"Product durability and efficiency are two important considerations when buying a pressure washing system. Difficult commercial and industrial cleaning tasks require equipment with high-quality internal parts and components," says Daimer Industries, Inc.® spokesman, Matthew Baratta. "Daimer® is excited to launch the Super Max™ 7000 with our newest hand-rolled stainless coils. The system offers outstanding temperatures up to 330ºF and pressure of 1000 psi. The propane electric pressure washer machine offers a greener way to achieve enhanced cleaning results with minimum efforts. Some of the most difficult-to-remove substances literally dissolve in mere seconds."
Heater exchange coils in the Super Max™ 7000 power optimized commercial pressure washer are first rolled manually with the highest-quality stainless steel on the market, and then inserted carefully within each machine. The incorporation of premium choice stainless is critical and of primary importance to the company's reputation for the best constructed coils in the industry. Daimer® does not use any outside facilities to fabricate coils, and thus can maintain strict quality standards.
The heater exchange coils form an important part of the system, as they allow the pressure washer machine to eject high steam temperatures without the damage such heat would cause other metals. The Super Max™ 7000's heating method makes the machine reach high temperatures within just 30 seconds. Additionally, the hot water pressure washer generates flow rates as high as 2.5 gpm.
Other brands in the market use fragile aluminum coils that do not last for a long time. Aluminum is not as heat tolerant and is prone to corrosion. The coils made of aluminum are softer than stainless steel and develop holes due to the excessively high temperatures flowing through them. Moreover, it is harder to weld and manufacture aluminum than steel, creating to the weaker metal's greater vulnerability and propensity for quicker deterioration.
The use of chemicals can also cut down the life of weak aluminum coils. Replacement of these coils may cost nearly $1000.00 or more. Daimer® offers its customers durable technologies that dramatically reduce maintenance costs and offer superior cleaning results.
The pressure washer is ideal for HVAC coil and condenser cleaning, auto detailing, and many other tasks that require melting tough deposits of grease, dirt, oil, or food within a variety of industrial and commercial settings. The machine is among the best floor cleaning machines to tackle kitchen floors and walls, food service restrooms, and grease hoods and vents.
The Super Max™ 7000 commercial pressure washer from Daimer® is a tri-mode machine, allowing the operators to choose from hot water, cold water, and wet steam temperature modes. Daimer®'s exclusive Adjustable Temperature Control™ (ATC™) technology allows users to adjust the temperature as per the specific cleaning requirements.
The company's Automatic Shutoff Technology™ (AST™) available as an option automatically powers down the equipment if it is left idle for more than 30 seconds. The machine restarts immediately when the trigger gun is pulled. AST™ is excellent when the machine is used as portable car wash equipment, for example, when users need to operate at longer distances away from the machine. Walking back and forth frequently to enable and disable the system can dramatically reduce productivity.
The propane-heated machine with a heavy-duty 1.5 HP – NEMA motor is environmentally-friendly, and can be used for both indoor and outdoor cleaning applications. The Super Max™ 7000 pressure washer equipment is available in different power configurations, such as 110 -120 volts up to 600 volts. Nozzles, including 0º (blast), 15º, 25º, and 40º all work in steam mode, and a 3' durable trigger wand with a quick disconnect is included with each machine.
Daimer®'s Long Hose Technology™ (LHT™), integrated within every Super Max hot water pressure washer enables users to purchase and utilize long hoses with minimal impact on pressure levels, and no reduction of flow rates or temperatures.
For Additional Information:
To discover more about the Super Max™ 7000 and Daimer®'s enhanced technologies, visit the company's website or call Matthew Baratta directly at (888) 507-2220. The extensive line of systems is exported to most countries worldwide.
About Daimer Industries, Inc.®:
Daimer Industries, Inc.® is the world's leading supplier of highly advanced machines, including carpet clean systems, gas pressure washer machines, floor cleaners, steam vapor machines, and many other models with exclusive patented technologies. Applications include powerful tile and grout cleaning, chewing gum removal, pest control, auto detailing, and most other uses to satisfy customers' needs globally.