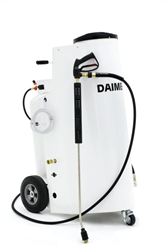 We are extremely pleased we can offer environmentally sound, technologically advanced machines to remove them quickly.
Woburn, MA (PRWEB) October 04, 2012
Daimer Industries, Inc.®, the industry's top-ranked provider of commercial pressure washer machines, has started shipping a combination gas pressure washer and electric pressure washer to target chewing gum removal graffiti throughout the world.
"Unsightly gum spots on sidewalks globally are more apparent than ever before." says Daimer Industries® spokesman, Matthew Baratta. "We are extremely pleased we can offer environmentally sound, technologically advanced machines to remove them quickly."
Daimer®'s Super Max™ 7000 represents a "greener" approach to chewing gum removal. The system is the industry's leading steam pressure washer, offering the highest temperature wet steam flow available to actually vaporize gum spots quickly from concrete sidewalks, parking lots, brick, pavers, and most other hard surfaces outdoors. The machine goes well beyond hot water pressure washer temperatures to dissolve up to an unprecedented 1200 pieces of gum per hour. This translates into approximately ten times the cleaning power of other technologies.
Steam vapor technology is currently marketed for chewing gum removal. Unlike vapor cleaning systems that require a chemical pre-spray and brushes to massage each spot, the Super Max™ 7000 cleans in a touch-less and chemical-free manner. The result is a faster, more effective, and less tedious approach.
The machine requires only a single 110 volt electrical power cord for power and a 40 pound propane tank to heat cold water to wet steam within approximately 30 seconds. Most gas pressure washer machines use gasoline or oil, which create greenhouse gases. However, the Super Max™'s propane heating system will not negatively impact the ozone layer, since it is not a fossil fuel, and will not rise into the upper atmosphere.
The Super Max™ system is a breakthrough in technology since it produces only 1000 psi, which is up to one-quarter the pressure level of conventional pressure washer equipment rated at up to 4000 psi. The 7000, with a low flow rate of only 2.5 gallons per minute and temperature up to 280°F higher than high-flow cold water systems, cleans more quickly, yet does not etch concrete or hurt pavers like higher pressure machines.
Other brands' lower temperature machines generate 100% water while the 7000's flow is approximately 65% water and 35% vapor. Contrary to machines generating 100% water flow, requiring cleaning at night, the 7000 can be used during the day, even on surfaces with pedestrian traffic. The flow is directed towards the gum spots and does not flood the entire area to be cleaned.
Super Max™ 7000 systems are also available in 220-240 volt, 60Hz and 50Hz for shipment to customers globally. A propane tank is included with each machine, and additional tanks are available at any welding supply store worldwide.
For Additional Information
To learn more about Daimer®'s cleaning technologies - including Super Max™ and hundreds of other products in their line or call Matthew Baratta at (888) 507-2220. Daimer® systems are available in various power configurations for worldwide use.
About Daimer Industries, Inc.®: Daimer Industries®, is a leading provider of its internationally recognized brand of Super Max™ pressure cleaning machines, including electric pressure washer, gas pressure washer, hot water pressure washer, and commercial pressure washer models. The company also markets a large variety of cleaning systems for use within most industries globally.