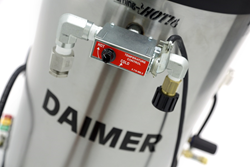 Daimer® is delighted to offer a machine that is designed to powerfully clean in an eco-friendly way using absolutely no chemicals or manual agitation. The Super Max™ 6000's dissolving power is unmatched ...
Woburn, MA (PRWEB) January 12, 2013
Daimer Industries, Inc.®, the globally popular American brand of 700+ models of the largest variety of industrially-constructed cleaning systems shipped to customers worldwide in over 240 nations, offering such technologies as professional pressure washer equipment, liquid propane and natural gas pressure washer machines, unique 100% heated electric pressure washer models, and the industry's largest line of portable commercial pressure washer products, is debuting its Super Max™ 6000, a multi-mode system offering outstanding temperatures as high as 330ºF to dissolve tough deposits of grease, oil, and dirt from machine shop equipment. The system's moderate pressure levels up to 750 psi at flow rates of 1.4 gpm do no harm to the machinery surfaces or finishes. The high temperatures clean hard-to-clean substances in minutes, and with a relatively small amount of water.
"Degreasing machine shop equipment can be a difficult job, especially when non-heated and low-grade machines are used. Pressure washer systems with high temperatures are the most effective way to melt greasy deposits on virtually any machinery," states Matthew Baratta, Daimer Industries, Inc.® spokesperson. "Daimer® is delighted to offer a machine that is designed to powerfully clean in an eco-friendly way using absolutely no chemicals or manual agitation. The Super Max™ 6000's dissolving power is unmatched, since the machine's temperatures up to 330ºF exceed those offered by any other pressure washing equipment brand in the industry."
Daimer® Modular System Design™ (MDS™) is included within every one of its high pressure cleaner machines. Also, its Self-Maintenance Engineering™ (SME™) allows users everywhere in the world to simply swap out a part in the very rare case it is necessary, without the need to send the machine back to the company, or any service center at all. Parts are readily available.
The Super Max™ 6000's high-pressure stainless steel heater exchange coil converts cold water to wet steam within just 30 seconds, which reduces the wait time and increases the productivity of the cleaning worker. Adjustable Temperature Control™ (ATC™) available on only Daimer®'s sophisticated commercial pressure washer models allows the operator to dial the temperature from an easily accessible knob located right on the control panel. The user can simply adjust the temperature as necessary, depending upon the application.
In addition, the Super-Hot™ technology from the company allows the machine to emit safe, but blazingly hot, high-pressurized steam non-stop for longer periods. The Super Max™ 6000 premium hot water pressure washer, featuring a heavy-duty .75 HP - NEMA motor, is powered by electricity and heated by propane, which is the greenest portable heating method that does create any negative environmental impact like diesel or kerosene.
The company's pressure washer is one of Daimer®'s machines with Steam Nozzle Optimized™ (SNO™ ) technology that allows all the nozzles, from 0º (blast), 15º, 25º, to 40º spray patterns to work in wet steam mode. Higher steam temperatures for all spray patterns offer greater versatility to operators when cleaning. The system is ideal for cleaning machinery in body-shops, garages, workshops, factories, and facilities within which is grimy, greasy, and dirty machinery and parts.
Traditional cleaning methods of applying dangerous chemicals, scrubbing, and then wiping are quite time consuming, as it is difficult to clean the hard-to-reach surfaces in the machinery. In addition, exposure to hazardous chemicals increases the likelihood of devastating lung diseases and even cancer. However, the safe Super Max™ 6000 robust industrial pressure washer from Daimer® can easily clean surfaces, such as nuts and bolts, clutch and brake parts, and others by ejecting Super-Hot™ steam at high pressure, but relatively lower moisture. The temperatures are the most important aspect of the machine's ultra-potent cleaning power.
The Super Max™ 6000 highly portable steam cleaner is available with the company's optional, exclusive Automatic-Shutoff Technology™ (AST™ ) that shuts off the machine when it is not in use for more than 30 seconds. The system powers on automatically when the trigger gun is pulled. This important feature allows users to work at extreme distances without the need to return to the machine and back again during breaks.
Another important technology included with the equipment is one that increases user convenience and enhances productivity. Long Hose Technology™ (LHT™) allows users to clean large areas without even moving the machine or losing temperature or flow rates, even from distances of up to 300 feet or more. Long distances create only a minimal impact on pressure. A 300 square foot hose can clean up to an astounding 282,000 square foot area.
The Super Max™ 6000 hot water pressure washer, with steel powder-coated, high gloss, chip/chemical resistant housing, comes with a standard power method of 110-120v, 60Hz, 15 amp power cord. Other power levels and 50Hz are available for all foreign countries.
For Additional Information:
To learn more about the Super Max™ 6000, visit Daimer®'s website or contact Matthew Baratta at (888) 507-2220. The equipment is available for exportation to most countries across the globe.
About Daimer Industries, Inc.®:
Daimer Industries, Inc.® is the world's leading supplier of highly advanced cleaning equipment, such as heavy-duty gas pressure washer and electric pressure washer systems,highly effective car wash equipment, diverse carpet cleaning equipment, multi-purpose hard floor cleaning machines, obliterating gum remover systems, ultra-enhanced vapor steam cleaners, and other products and models with patented technologies for auto detailing, pest control, tile and grout cleaning, and countless other applications.