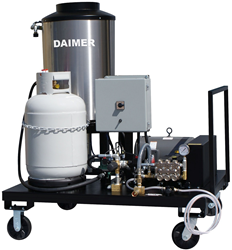 Daimer® is extremely proud to be shipping its Super Max™ 12500 PE commercial pressure washer systems to military forces in the Middle East, United States, and other locations throughout the world. Daimer®'s machine is capable of targeting ...
Woburn, MA (PRWEB) January 01, 2013
Daimer Industries, Inc.®, the global-leading supplier of U.S. engineered and manufactured commercial cleaning equipment offering well-recognized products, including its versatile stationary pressure washer machines, proprietary portable commercial pressure washer equipment, rugged industrial carpet cleaner systems, and temperature-maximized vapor steam cleaner models, has unveiled to the government its Super Max™ 12500 PE, truly unique, tri-mode pressure washing equipment emitting no fossil fuels and high cleaning power.
The company ships its equipment not only to the American government and all branches of the military, but also to national and international companies and organizations of all sizes located in over 200 countries globally. American and foreign buyers prefer top U.S. manufactured equipment such as those made by Daimer®. Popular systems range from industrial truck mount carpet cleaning equipment to the most advanced car wash equipment, and many other technologies in between for virtually unlimited applications within all countries.
The 12500 PE machine is both heated and powered by propane, so it can be used for indoor and outdoor cleaning applications. The gas pressure washer create a pressure level of 3000 psi and offers a high flow rate of 5 gpm. High temperatures up to 330ºF make tough cleaning applications like mud, grease, and oil removal easy. Daimer®'s own Thermal Optimized Projection Steam™ (TOPS™) technology allows for the steam pressure washer to create more forceful, higher temperature steam flow than other steam cleaners on the market. The company's TOPS™ and Super-Hot™ features result in much fast cleaning performance as well as dramatically lower water usage for "greener" cleaning than other brands' systems.
"Military forces have different cleaning needs than any ordinary company or organization. Soldiers generally have to work in difficult and dangerous conditions, so powerful cleaning equipment with superior technologies, high temperatures and flow rates are required to make the cleaning applications easier and much faster," states Daimer Industries, Inc.® spokesperson, Matthew Baratta. "Daimer® is extremely proud to be shipping its Super Max™ 12500 PE commercial pressure washer systems to military forces in the Middle East, United States, and other locations throughout the world. Daimer®'s machine is capable of targeting some of the toughest cleaning applications imaginable."
Government military personnel have to manage varied cleaning tasks, other than obviously protecting the country and its national interests abroad as well as within the United States. Daimer®'s Super Max™ 12500 PE pressure washer is ideal for truck washing and superb auto detailing tasks. The product is excellent for maintaining heavy trucks, Hummers, automobiles, construction equipment, building exteriors, and more.
The high-powered system offers the power of even some of its durable electric pressure washer machine models and can clean all kinds of hard surfaces, including concrete, brick, metal, and most other hard surfaces both inside facilities and on outside premises. The power washing equipment can even be attached to Daimer®'s hard surface spinning tools for remarkable tile and grout cleaning with simultaneous extraction.
Daimer®'s multi-functional equipment can be used as a steam industrial pressure washer system , a forceful hot water pressure washer, and a cold water pressure cleaner system. The 12500 PE gas pressure washer offers optional two-gun operation to allow two personnel to use the machine at the same time. The system can heat water to desired temperatures in nearly 30 seconds, due to its TOPS™ functionality and the presence of heavy-duty schedule 80 heating coils. The machine's outstanding temperatures dissolve oil and grease deposits quickly and easily without the use of chemicals.
The Super Max™ 12500 PE pressure washers include steel, powder-coated, high gloss, chip or chemical resistant housing makes it durable enough to withstand the rigors of tough outdoor cleaning applications. The highly powerful machine includes a very heavy-duty 20.0 HP propane engine.
The company's Super Max™ 12500 PE comes with Daimer®'s Long Hose Technology™ (LHT™) that offers excellent power even if hoses of 300 feet in length are used. For indoor use, the machine can be kept outside and long hoses can be used to clean the inside. The pressure level of the company's pressure washers will drop very slightly, even if the machine is kept at a distance of many hundreds feet away from location where cleaning is performed. Operators can leave the equipment outside and use long hoses to target objects deeper within industrial facilities.
A 3' durable trigger wand with quick disconnect, 50' high pressure steam hose, and a number of nozzles, such as a blast nozzle to one with a 40º spray pattern, are some of the accessories included with the machine.
For Additional Information:
To learn more about the Super Max™ 12500 PE, visit the company's official corporate website or contact Matthew Baratta at (888) 507-2220. The equipment is available for exportation to most countries across the globe.
About Daimer Industries, Inc.®:
Daimer Industries, Inc.® is the global supplier of highly advanced cleaning equipment, such as hot water pressure washer machines, electric pressure washer systems, carpet cleaning systems, hard floor cleaners, gum removal machines, steam cleaning systems, and other products and models with patented technologies.