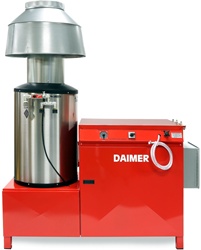 Daimer® is proud to offer in its Super Max™ 15900 specialized cleaning equipment that helps operators deal with the potential bacterial hazards and challenges associated with processing poultry. Plants must clean equipment and surfaces ...
Woburn, MA (PRWEB) January 08, 2013
Daimer Industries, Inc.®, the leading supplier of U.S. engineered and manufactured cleaning equipment providing technologies, such as robust industrial pressure washer machines, multi-flow hot water pressure washer systems, industrial car wash machines, versatile soft and hard floor cleaning models, and many gas pressure washer systems for a variety of applications, is releasing its Super Max™ 15900, a pressure washer machine that is the most powerful of the 15000 series models the company markets within its non-customized configurations.
The model is a unique multi-mode pressure washer with high cleaning power and multiple heating options, including hot water and Daimer®'s own Super-Hot™ wet steam with the highest temperatures in the world at up to 330°F. The 15900 even emits cold water when necessary. Optional simultaneous multi-user configurations are available to allow for even faster cleaning.
Effective cleaning is critical to help prevent the spread of Salmonella, E.Coli, and Listeria to food, and ultimately to consumers. Unfortunately, bacteria outbreaks have been increasing, leading to sickness as well as substantial financial losses to food companies.
Daimer® is a recognized leader in outstanding carpet steam cleaner machines and is famous for its innovative, technologically-advanced commercial and industrial cleaning equipment for virtually all types of cleaning applications. Daimer® ships throughout the United States, Canada, and over 240 countries worldwide, and is an expert in pressure washing equipment engineering and product development for those who seek customized industrial solutions. Daimer® has developed sophisticated pressure washing equipment for most industries over many years, and continues to offer innovate solutions.
"Poultry processing equipment requires comprehensive cleaning. Traditional methods employed for eviscerating rooms and equipment are only designed to remove debris and help in degreasing to a certain extent," states Daimer Industries, Inc.® spokesperson, Matthew Baratta. "Daimer® is proud to offer in its Super Max™ 15900 specialized cleaning equipment that helps operators deal with the potential bacterial hazards and challenges associated with processing poultry. Plants must clean equipment and surfaces more effectively than ever before, considering the continued bacteria outbreaks leading to food recalls. The Super Max™15900, with its advanced technologies, is capable of handling some of the toughest cleaning applications with ease."
Poultry processing plants are subjected to compulsory inspections at regular intervals. A serious percentage of food poisoning reported annually can be traced to food processing plants. Increased cleaning and sanitation of the plants and premises can bring down the instances of food contamination and diseases significantly.
The Super Max™ 15900 is a stationary pressure washer designed specifically for industrial applications. The professional electric pressure washer is ideal for poultry processing equipment cleaning, due to its higher flow rate of 5 gpm and extremely high pressure levels up to 3000 psi. The system comes with Daimer® exclusive, optional Automatic Shutoff Technology™ (AST™), which powers off the machine automatically after 30 seconds of non-use. The machine then automatically restarts when the trigger gun is pulled again, even if the system is 300 feet away from the wand. AST™ helps extend the life of the pump and overall system.
The Super Max™ cleaning equipment is heated by propane or natural gas and meets USDA standards. The machine can be used for indoor and outdoor applications. High temperatures up to 330°F makes tough cleaning applications of poultry processing equipment easy and quick. The systems can be used as power-optimized floor cleaning machines to absolutely obliterate build-up quickly and effortlessly.
Daimer®'s Super Max™ commercial pressure washer machines come with Adjustable Temperature Control™ (ATC™) technology for better cleaning. The company's Long Hose Technology™ (LHT™), which is standard with all the company's machines, offers excellent power even when hoses of 300 feet in length are used. Pressure is impacted minimally while temperature and flow rates remain constant.
The Super Max™ 15900 hot water pressure washer, the exterior of which is composed of powder-coated steel, high gloss chemical resistant housing, has an excellent heater response time and converts cold water to wet steam with in approximately 30 seconds. A 3' trigger wand allows for quick disconnection. Shorter and extended length wands are available as are longer hoses. The machines are bundled with a 50' hose.
For Additional Information:
To learn more about the Super Max™ 15900 commercial pressure washer, visit the company's official corporate website or contact Matthew Baratta at (888) 507-2220. The equipment is available for exportation to most countries across the globe.
About Daimer Industries, Inc. ®:
Daimer Industries, Inc.® is the global supplier of highly advanced cleaning equipment, such as sophisticated mobile car wash equipment, hot water pressure washer machines, gas pressure washer systems, the industry's highest ranked and best carpet cleaner models for all types of carpet cleaning jobs, hard floor cleaners, gum removal machines, steam cleaner systems, and many other products and models with patented technologies for virtually all national and international cleaning applications.