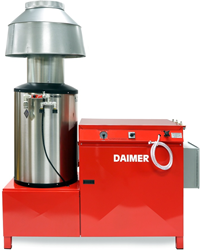 Daimer® is excited to launch a commercial pressure washer that can generate temperatures up to 330ºF for dissolving tough buildup of tree sap, grease, bugs, and more easily off of large vehicles.
Woburn, MA (PRWEB) January 17, 2013
Daimer Industries, Inc.®, the world's leading American brand and supplier of versatile, rugged, and technologically advanced cleaning machines designed for the most challenging applications, and offering such products as industrial pressure washer systems, robust gas pressure washer machines, trailer mounted mobile car wash equipment equipment, commercial floor cleaning machines, and many other machines, is debuting its Super Max™ 15900, which is the company's most powerful pressure cleaner in the 15000 series. The equipment is powered with electricity and heated by natural gas, propane, or oil. A high pressure level of 3000 psi, flow rate of 5 gpm, and powder-coated steel, high gloss, chip/chemical resistant housing makes the pressure washer ideal for tough bus cleaning applications.
"Heavy vehicles like buses and trucks cover long routes and attract a lot of dust, dirt, grease, and grime on a daily basis. Cleaning these tough greasy deposits requires the use of powerful equipment that are durable and feature high temperatures," says Matthew Baratta, spokesperson of Daimer Industries, Inc.®. "Daimer® is excited to launch a commercial pressure washer that can generate temperatures up to 330ºF for dissolving tough buildup of tree sap, grease, bugs, and more easily off of large vehicles. The Super Max™ 15900 power-packed electric pressure washer machine is also available in versions optimized for long-distance cleaning and remote controlled power."
The Super Max™ 15900 hot water pressure washer from Daimer® comes with tri-mode features and the company's Adjustable Temperature Control™ (ATC™) technology that allows users to adjust the temperature flow as per the cleaning application. In case the vehicle is not too dirty, operators can either turn off the heat or use hot water for cleaning, instead of wet steam. On the other hand, for extremely dirty vehicle exteriors, Daimer®'s Super-Hot™ technology, available with its pressure cleaners, allows for the emission of highly pressurized hot steam continuously for longer periods.
Other Daimer® technologies, such as Long Hose Technology™ (LHT™) and optional Automatic-Shutoff Technology™ (AST™), improve the cleaning professionals' productivity. The LHT™ offers optimal power even when using hoses up to 300 feet in length, while the AST™ automatically powers down the system when not in use for over 30 seconds. The system gets powered back on when the trigger gun is pulled. Users do not need to return long distances back and forth to turn on and off the machine, which is especially essential for many bus cleaning or mobile auto detailing application.
Daimer®'s Super Max™ 15900 portable or trailer mounted hot water pressure washer system features heavy-duty schedule 80 heater exchange coils that convert cold water to hot water in approximately 30 seconds. Additionally, chemicals can be injected into the machine while handling difficult tasks of dissolving grease. A pressurized, steam-enhanced flow makes such cleaning applications easy. Daimer® offers eco-friendly chemicals that pose no harm to the operators or environment.
The company supplies pressure cleaners in a variety of power configurations for worldwide use. The Super Max™ 15900 pressure washer machines, with heavy duty 10.0 HP – NEMA motor, use standard power method of 220V-240V, three phase, 60 Hz, while optional power methods of 220V-240V three phase, 50 or 60 Hz and 440V, three phase, 50 or 60 Hz are also available.
The superior commercial pressure washer system comes with 3' durable trigger wand with a quick disconnect, 50' high pressure steam hose, standard nozzles of 0º (blast), 15º, 25º, 40º, and steam nozzles for enhanced cleaning results. Daimer®'s cleaning machines are world famous for their quality and rugged construction. All the parts of the Super Max™ 15900, including accessories, are able to withstand high pressures, as they are constructed of high-quality materials. Other brands use low-quality aluminum parts in their machines that wear down more easily and need to be replaced repeatedly, whereas Daimer® machines are low maintenance and solidly built.
In addition, optional two-gun operation of the portable car wash equipment allows this unit to be customized for a variety of applications. Two users can operate the machine at the same time with this feature. The unrivaled reliability and performance of the Super Max™ 15900 makes it the best machine for a variety of cleaning applications, such as maintaining exterior surfaces of buses, cleaning parking lots, chewing gum removal with a gum removal kit, and more.
Daimer®'s Self-Maintenance Engineering™ (SME™) and Modular System Design™ (MDS™) allow the company's machines to be used worldwide, and parts replace by the operators. No specialized repair personnel or locations are required to replace a component in the rare case it is needed.
For Additional Information:
To obtain additional details about the Super Max™ 15900, call Matthew Baratta directly on (888) 507-2220 or visit Daimer®'s website. The machines with advanced technologies are marketed to over 240 nations around the world.
About Daimer Industries, Inc.®:
Daimer Industries, Inc.® is the leading brand of superior cleaning machines, including powerful truck mount carpet cleaning equipment, gas pressure washer and electric pressure washer systems, commercial floor cleaning equipment models, steam cleaning systems, mobile carpet extractor machines, auto detailing equipment, and multi-purpose hard floor cleaning machines. More than 700 models are available for tile and grout cleaning, car washing, and mostly all cleaning applications within North America and globally.