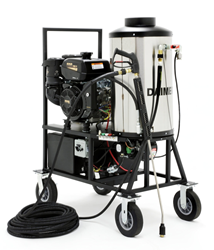 Daimer® is making a positive environmental impact with its release of its new Super Max™ 10880 pressure washer. The machine meets the new EPA and foreign emission standards with a sophisticated, high-tech 14 HP engine.
Woburn, MA (PRWEB) October 10, 2012
Daimer Industries, Inc.®, offering the largest selection of American made commercial and industrial pressure washer systems with over 400 models, has launched a new steam cleaner in the Super Max™ 10880. This powerful, fully portable steam commercial pressure washer contains a special engine meeting the U.S. EPA (Environmental Protection Agency) regulations, requiring specific emission limits for gasoline powered engines. The gas pressure washer offers temperatures up to 330ºF, the highest in the industry.
"Excessive emission of fossil fuels into the atmosphere has always been a health hazard worldwide," says Daimer Industries® spokesman, Matthew Baratta. "Daimer® is making a positive environmental impact with its release of its new Super Max™ 10880 pressure washer. The machine meets the new EPA and foreign emission standards with a sophisticated, high-tech 14 HP engine."
Besides its operation as a steam cleaning system, the 3500 psi, 4 GPM Super Max™ 10880 can be used as a cold water machine for applications for which heat is inappropriate. The machine can also generate hot water temperatures of between 180ºF and 210ºF. With its heavy-duty schedule 80 heating coil, the gas pressure washer converts cold to hot water within approximately 30 seconds.
Daimer®'s special 12 volt commercial pressure washer configuration meets regulatory requirements across the world, such as EPA Phase III, USA CARB Tier 3, and EU Stage 2, RFI/EMC, EU Safety and EU Noise. The pressure washer features an exclusive vibration isolation system, appropriate safety controls, latest low draw burner with low amperage requirements, exclusive high output engine alternator, and heavy-duty triplex plunger pumps. The system is available as a portable, or else configured on a skid for convenient trailer or truck mounting.
Ordinary non-Daimer® gasoline pressure washers have traditionally incorporated into their equipment lower quality and unreliable batteries that cannot remain charged while the systems are in operation. Moreover, due to their weak oil burner systems, the coils and combustion chamber systems of these hot water pressure washer machines accumulate soot and carbon due to poor and inefficient burning.
For years pressure washer suppliers have been shipping machines with engines emitting gases that have reached the ozone layer. Some providers have ceased offering gas powered pressure washers because they have been unable to create a configuration meeting the EPA specifications. Unfortunately, even some of the leading gasoline engine producers have yet to engineer products that conform to the new national standards. Although 100% electric pressure washer equipment creates no fumes, it lacks the cleaning power to replace gasoline systems.
The density of carbon dioxide in the atmosphere due to the burning of fossil fuels, such as coal, gas, and oil, has risen by approximately 40% since the beginning of the Industrial Revolution. Due to the consumption of fossil fuels, nearly 337 billion tons of carbon has been released into the atmosphere since 1751. This excessive flow of gases had finally reached the point to which it was critical for the EPA to formulate new Carbon Pollution standards. In addition, no new power plants with a capacity exceeding 25 MW (mega watts) can generate greater than one pound of CO2 (carbon dioxide) per kilowatt-hour produced.
Daimer®'s Super Max™ 10880 offers the solution to better air quality as well as more effective and efficient professional cleaning. The company is planning to release more eco-safe, earth-friendly products.
For More Information:
Visit Daimer.com or call Matthew Baratta directly at (888) 507-2220 for additional information on Daimer® products. The machines are available for shipment to most countries globally.
About Daimer Industries, Inc.®
Daimer Industries® is a leading supplier and worldwide exporter of commercial and industrial cleaning machines, such as pressure wash systems, hot water pressure washer equipment, carpet steamers and truck mount carpet cleaners, and a number of technologically advanced products for use within most industries.