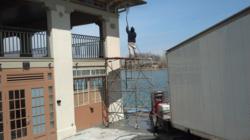 Cleaning buildings like this without breaking the bank takes efficient procedures and experienced crews
(PRWEB) May 09, 2013
Pressure washing historic structures is not a job for the inexperienced. A professional quality power washer can damage older buildings if not used properly.
And if that historic structure is a boathouse next to a public lake in the middle of one of Denver's most popular parks, the job is that much more challenging. The wash water can't be allowed to run into the lake and cause environmental problems.
Water recovery has become a major part of professional pressure washing. With the 2010 Clean Water Action Plan, an EPA update to the Clean Water Act, pressure washing companies had to raise their quality level to comply. In July of 2010, Colorado wrote their new guidance policies to comply with the updated EPA regulations. These documents are available on the Stormwater Regulations page of washonwheels.net.
"Cleaning buildings like this without breaking the bank takes efficient procedures and experienced crews", said Joel Shorey, President of Wash On Wheels. "That level of efficiency doesn't happen overnight. But the learning should be done long before working on historic structures."
With 27 years experience in Denver, Wash On Wheels knows how to deal with Colorado's regulations. They specialize in EPA water recovery and include it with their pressure washing service at no extra charge.
Wash On Wheels is Colorado's largest mobile pressure washing company. In business since 1985, they have an A+ rating with the Denver/Boulder BBB. The company's services include pressure washing commercial buildings, sidewalks, parking garages, restaurants, and graffiti removal. Their services also include car washing for auto dealers, fleet truck washing, boat cleaning and interior and exterior detailing. They specialize in emergency grease and oil spill cleanups. Wash On Wheels services the Denver metro area and Front Range Colorado. For more information, contact Joel Shorey at 303-937-7181 or visit http://www.washonwheels.net.