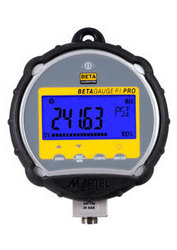 Derry, NH (PRWEB) July 22, 2010
What's better than a BetaGauge PI? Only BetaGauge PI-PRO, of course. Martel Electronics is releasing a new version of its popular digital pressure test gauge, the BetaGauge PI-PRO. The new gauge offers a custom designed high pressure cast zinc-aluminum alloy housing with a high level of protection for the electronics from environmental insult.
The PRO expands the range, too, with 10" WC full scale and 15,000 psi added to the 21 ranges previously available.
Martel's president, Tom Fatur states, "With our program of continuous improvement, we looked closely at ways to improve the BetaGauge PI pressure calibrator. Investing in a custom housing offers the most benefit for our users while keeping the product competitive in tough economic times."
In addition to the new housing, the pressure calibration gauge has been tweaked for easier field recalibration using either the keypad or standard serial port with a Windows™ PC. This change also provides the gauge with better performance in vacuum applications on compound ranges.
Like its predecessor, the BetaGauge PI-PRO pressure calibrator offers market leading performance with ±0.05% of full scale accuracy, full pressure data logging capability with the optional BetaLOG™ software, 19 gauge and absolute ranges, 23 engineering units for display, a CUST user defined unit, large backlit display, stainless steel wetted parts on most ranges and a full rubber boot.
The new gauge can be paired with one of three Martel calibration test pumps of appropriate range to create a handy kit that generates and measures pressure with great accuracy and precision. Kits include a sturdy hard sided carrying case, test hose, fittings, and the pressure calibration gauge mounted on the test pump.
For applications that require even greater accuracy, Martel offers the BetaGauge PI-PRO Reference Class. The Reference Class is rated at ±0.04 % of reading plus 0.01% of full scale. This allows much better downscale accuracy than any competing gauge of an equal range and price point.
The new PRO gauge is an in-line replacement for the older design with no change in pricing or availability. Shipments begin on August 2, 2010. Panel mount and 24 V powered gauges will continue with the existing deep drawn electro-polished stainless steel case, and will include the other new features.
The BetaGauge PI-PRO fulfills demanding requirements in industrial applications around the world in markets such as energy resource development, oil refining, chemical processing, natural gas transmission, electrical utilities, metals and mining and others.
Additional information is available on Martel's web site, http://www.martelcalibrators.com.
Martel Electronics Corporation offers a diversified line of hand-held and bench calibrators, process instruments, process indicators, power supplies, meters and displays, and test and measurement instruments manufactured to the highest quality standards for the process industry and OEM applications.
# # #