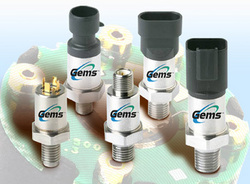 Key benefits of the 3300 series transducer for our OEM customers are its low pressure capabilities, compact size, low cost, stainless steel wetted parts and an all welded construction
Plainville, CT (Vocus) July 17, 2009
Gems® Sensors & Controls™ (Gems), a global leader in liquid level, pressure, and flow sensors, miniature solenoid valves, and fluidic systems announces the launch of the new 3300 series pressure transducer. The 3300 series transducer is designed for low-pressure applications that demand small size and low cost along with high accuracy and stability. The 3300 Series pressure transducer is well suited to applications such as chemical sterilizers, autoclaves, pneumatics, HVAC&R, pumps & compressors.
The 3300 pressure transducer is the newest addition to the highly successful 3100 and 3200 series transducers, bringing a versatile low pressure capability to the product line and opening up a host of new applications across a number of different industries. All stainless steel wetted parts and all welded construction make the unit compatible with harsh chemicals and environments. In addition, the unique temperature compensation at source technology delivers outstanding temperature stability.
The 3300 series is available in pressure ranges from 15 to 250 psi and is capable of operating over a temperature range of -40°F to +257°F. Available in voltage, current, and ratiometric outputs, with a wide selection of connectors, pressure fittings and mating connectors makes the 3300 suitable for many applications without modification.
"Key benefits of the 3300 series transducer for our OEM customers are its low pressure capabilities, compact size, low cost, stainless steel wetted parts and an all welded construction", says Sitara Hultman, Product Marketing Manager for Gems Sensors & Controls.
About Gems Sensors & Controls
Founded in 1955, Gems is a preferred supplier to thousands of OEM companies across a broad range of industries throughout the world due to its extensive application knowledge, innovative sensor and miniature solenoid valve designs, and customer centric approach to problem solving to meet customer-specific needs. Gems Sensors & Controls is a leading global manufacturer of: liquid level, flow, and pressure sensors; solid-state relays and barriers; liquid and pneumatic miniature solenoid valves; and pre-assembled fluidic systems with facilities in North America, Europe, and Asia. Gems Sensors & Controls is ISO 9000, UL, and CE certified.
For more product information, contact Gems Sensors & Controls, One Cowles Road, Plainville, Connecticut 06062. Phone: (800) 378-1600. http://www.GemsSensors.com.
Press Contact:
Betsy Neale-Siemon
PH: 860-793-4333
# # #