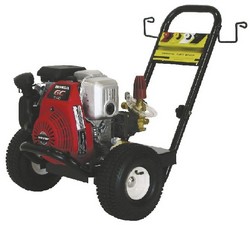 Pennsylvania (PRWEB) December 27, 2007
It's never been easier for homeowners to rate, review and choose the perfect pressure washer. The new Pressure Washer Buyers Guide.com is a complete source of buying information for homeowners and DIYers.
Written by a knowledgeable homeowner, for other homeowners, the Pressure-Washer-Buyers-Guide.com clearly answers the most frequently asked question: Which pressure washer should I buy?
Only a few years ago, homeowners with outdoor cleaning projects would have to rent a pressure washer from their nearby equipment rental center. Not anymore! There have been major improvements in the design and manufacturing of pressure washers, which have greatly lowered their cost. And there are more stores and internet sites that offer pressure washers, so prices have become more competitive. This new guide takes the guesswork out of choosing from among the hundreds of pressure washer models now available to consumers!
A pressure washer is now a must-have for every homeowner and the pressure-washer-buyers-guide.com helps consumers choose the very best model for their cleaning projects. Pressure washer ratings are reviewed and consumers can quickly learn how to effectively compare models. And in order to save a homeowner time, frustration and money, there's a review of how pressure washers work, an explanation of the best accessories & tools on the market, and a summary of what buyers should know about pressure washer engines and pumps.
Also, pro-style cleaning tips, safety advice and cheap pressure washing ideas are also covered.
Pressure-Washer-Buyers-Guide.com is an invaluble on-line information source for homeowners who want to select the perfect pressure washer. http://www.pressure-washer-buyers-guide.com/choosing-a-pressure-washer.html.
###