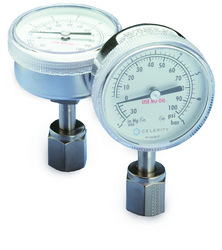 This is a great product line for Brooks Instrument, as it compliments our flow business very well. The fact that we offer pressure switches and transmitters in addition to the pressure gauges provides our customers with some great options
Hatfield, PA (Vocus) March 17, 2010
Brooks Instrument, a world-leading provider of advanced flow measurement, control and level solutions, opened a new production line for the recently acquired pressure gauge product family at its headquarters in Hatfield, Pa. Brooks acquired the pressure gauge products through its acquisition of certain assets of Celerity's Instrumentation division in June 2009.
The pressure gauge product family not only includes pressure gauges, but also pressure switches and pressure transmitters:
S122 / C122 / F122 2-inch Pressure Gauges
The Brooks S122/C122/F122 series 2-inch stainless steel gauges were designed and developed for the demanding high-purity applications. With an accuracy of 1 percent of full scale, the gauges offer a reliable and efficient way to monitor pressure locally. This durable measuring device comes in a variety of process connections, pressure ranges and socket orientations.
IPS122 2-inch Indicating Pressure Switches
The Brooks IPS122 series 2-inch stainless steel indicating pressure switches provide a high-purity, precision pressure gauge and electronic switch with an adjustable pressure switch setpoint. This compact unit has the ability to operate lights or relays up to a maximum of 12 watts. Available in a variety of pressure ranges and process connections, this device provides solid-state switching for cleanroom and hazardous applications.
IPT122 2-inch Indicating Pressure Transmitters
With a variety of available outputs, the Brooks IPT122 series 2-inch stainless steel indicating pressure transmitters (IPT) are very versatile devices. Accurate within 1 percent of full scale, the IPT122 can provide 0 to 5 VDC, 1 to 5 VDC or 4 to 20 mA outputs with pressure ranges up to 4,000 psi.
All of these products are cleaned for oxygen service to ANSI B40.1 level IV specifications.
"This is a great product line for Brooks Instrument, as it compliments our flow business very well. The fact that we offer pressure switches and transmitters in addition to the pressure gauges provides our customers with some great options," said Steve Kannengieszer, Director of Marketing, Mass Flow Products at Brooks Instrument. "Relocating the production line to our global headquarters allows us to monitor customer orders more efficiently and ultimately improve customer satisfaction."
Manufacturing of the pressure gauge products will be supported in Allen, Tx, as well as the new Hatfield Pa location, for a brief period to ensure there are no customer interruptions as the new production line ramps up.
About Brooks Instrument
Brooks Instrument, LLC, based in Pennsylvania, is a company of highly trained specialists whose goal is to provide flow solutions that exceed customer expectations. The Company has a proven history of innovation including the first miniaturized Coriolis mass flow controller (Quantim), the first watertight and explosion proof thermal mass flow controller (Mf Series), the first thermal mass flow controller with Foundation Fieldbus (SLA Series), and the first variable area meter with Foundation Fieldbus (MT3809 & MT3750). Today, Brooks Instrument's portfolio includes glass and metal tube variable area meters (rotameters), thermal mass flow controllers and meters, Coriolis mass flow controllers, meters and transmitters, pressure control products, magnetic level instruments, and a variety of flow accessories. The Company also owns Key Instruments which offers precision machined acrylic flow meters, molded plastic flow meters, glass tube flow meters, electronic flow meters, and flow control valves. Brooks Instrument has manufacturing locations, sales, and service offices in the Americas, Europe, and Asia. For more information on flow solutions, products, or sales contacts please visit http://www.BrooksInstrument.com.
# # #