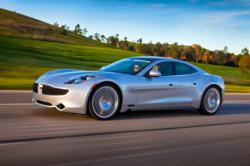 The Fisker Karma shatters the stereotype that an electric car has to be small, impractical and unattractive.
Paramus, New Jersey (PRWEB) April 26, 2012
Prestige Fisker opens its doors today, providing Fisker sales and service to customers in the greater New York City area. Fisker Automotive is an American car company dedicated to producing environmentally responsible luxury vehicles. The company's first offering, the Fisker Karma hybrid sedan, was named 2012 Design of the Year by Automobile Magazine.
General Sales Manager Greg Fioretti is excited to begin offering the Fisker Karma to the public. "This car shatters the stereotype that an electric car has to be small, impractical and unattractive," said Fioretti. "The Karma not only looks spectacular, it drives like a high performance sports car, and it has all the interior enhancements you'd expect from a premium luxury sedan. Fisker's company motto is 'pure driving passion,' and that's really what you feel behind the wheel of a Fisker Karma."
Fisker's innovative EVer™ powertrain technology provides extended range electric driving, with the first 50 miles powered exclusively by the plug-in electric motor. The Karma then switches to a gasoline engine that supports the motor for another 250 miles of fuel-efficient driving before a fill-up is required. Under normal highway driving conditions, the 2012 Fisker Karma hybrid is capable of averaging up to 50 miles per gallon.
Other eco-friendly design features in the Karma include low energy LED lighting, a supplemental solar panel roof, a regenerative braking system that captures and re-uses kinetic energy, and the use of reclaimed wood from fallen trees for interior accents.
For a limited time, Prestige Fisker is offering an exclusive $2,500 Eco Credit that can be applied to the purchase of any new 2012 Fisker Karma model. Customers interested in taking advantage of this Fisker discount should contact General Sales Manager Greg Fioretti at (888) 331-5965 to schedule a sales appointment and a test drive.
ABOUT PRESTIGE FISKER
Prestige Fisker is a subsidiary of Prestige Jaguar Land Rover of Paramus, NJ. Established in 1986, Prestige Jaguar Land Rover is one of the largest volume Land Rover dealerships in the world. Thousands of consumers have become proud Land Rover and Jaguar owners and lessees, thanks to Prestige's experienced sales staff, knowledgeable financing department, and expert service technicians. Prestige Jaguar Land Rover is a member of the Prestige Auto Group, the 20th largest dealership group in the United States.
ABOUT FISKER AUTOMOTIVE, INC.
Fisker Automotive is an American car company, founded in 2007, committed to producing electric vehicles with extended range (EVer) that deliver uncompromised, responsible luxury. The company is designing and developing the world's first line of premium electric plug-in hybrids representing the company's firm belief that environmentally conscious cars need not sacrifice passion, style, or performance. Fisker Automotive is a global company that is redefining luxury for the modern sports car buyer.