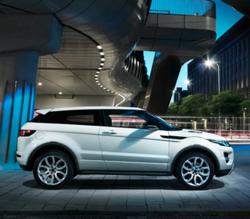 "The Evoque is by far the lightest, most fuel-efficient Land Rover we've ever sold, and I find it to be just stunning." -- Martin Hall, General Manager
Paramus, New Jersey (PRWEB) September 28, 2011
Prestige Land Rover of Paramus, one of the largest volume Land Rover dealers in the world, is proud to introduce the all-new 2012 Range Rover Evoque, the latest addition to the Range Rover line of luxury sport utility vehicles.
Prestige Land Rover General Manager Martin Hall has been encouraged by the overwhelming demand for the new Evoque, noting that many of the first vehicles from this week's initial shipment have been pre-sold. Still, Hall welcomes all those interested in reserving their new Range Rover Evoque to come to Prestige Land Rover to view and test-drive the new model in person.
"The Evoque is by far the lightest, most fuel-efficient Land Rover we've ever sold, and I find it to be just stunning," Hall said. "It's smaller in stature, but it doesn't sacrifice any of the style, comfort, or performance that are unique to the Range Rover brand."
The Range Rover Evoque, available as a five-door and as a three-door coupe, is a landmark innovation in Land Rover's efforts to create more sustainable, environmentally friendly vehicles. At a starting weight of just 3,680 lbs, the Evoque achieves fuel economy of 28 MPG EPA highway and 19 MPG EPA city, while maintaining Land Rover's traditional 4x4 off-road capability, trademark luxury and superior craftsmanship.
For a limited time only, the 2012 Range Rover Evoque Pure Plus is available for lease at Prestige Land Rover at the special rate of $525 per month for 39 months. This vehicle includes all standard options, as well as Climate Comfort Package and Satellite Radio. The total drive-off price, including first month's payment, is $5315, with no security deposit required. View the specific details for this special Range Rover Evoque lease.
Prestige Land Rover continues to take orders for the 2012 Range Rover Evoque. Customers – call the General Sales Manager, Greg Fioretti, on his direct line (201-987-8900) to arrange your sales appointment.
About Prestige Land Rover of Paramus
Established in 1986, Prestige Land Rover of Paramus is one of the largest volume Land Rover dealerships in the world. Thousands of consumers have become proud Land Rover and Range Rover owners and lessees, thanks to Prestige's knowledgeable sales staff, experienced financing department, and expert service technicians. Prestige Land Rover is a member of the Prestige Auto Group, which is the 20th largest dealership group in the United States.
###