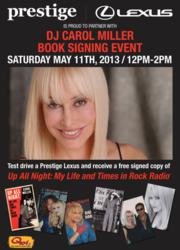 We invite everyone to come out and take advantage of this opportunity to meet legendary D.J. Carol Miller, test drive a Lexus, and get a free signed copy of her book.
Ramsey, N.J. (PRWEB) May 09, 2013
Executives at Prestige Lexus were pleased to announce a special book signing event on May 11 with legendary DJ Carol Miller from Q104.3. Miller, a radio veteran with a lifetime of entertaining experiences involving rock 'n' roll legends, will sign copies of her book from 12 p.m. to 2 p.m. at the Lexus dealership. Attendees who test drive a Prestige Lexus vehicle during Miller's appearance will receive a free, autographed copy of "Up All Night" while supplies last.
"We couldn't be more excited to have Carol Miller make an appearance at our dealership," said Joe Billotti, general manager of Prestige Lexus. "She has been a staple of New York radio for so long, and her unmistakable voice, engaging personality, and amazing story are both compelling and inspiring. We invite everyone to come out and take advantage of this opportunity to meet a certified legend in rock 'n' roll radio."
"Up All Night" chronicles Miller's rise to prominence as the nation's premier female radio DJ, who introduced the New York City area to Bruce Springsteen and countless other musicians over the years. The book also explores details of her personal life, from her romantic involvement with Aerosmith's Steven Tyler to her recent battle with breast cancer.
Miller is one of the longest-tenured personalities in New York radio. She has broadcasted for both WPLJ and WNEW in addition to Q104.3, and she has been recognized in the Rock and Roll Hall of Fame. Miller has hosted dozens of national and international radio shows, and has made television appearances on "Entertainment Tonight," VH-1, and others. Her syndicated and satellite radio program, "Get the Led Out," is heard nationwide.
Customers interested in learning more about the book signing event at Prestige should visit http://prestigelexus.com, or call 201-825-5200 to speak with a friendly customer service representative.
About Prestige Lexus
Prestige Lexus of Ramsey is an authorized Lexus dealer that provides areas of New Jersey and New York with quality Lexus vehicles, service, and parts. Thanks to the friendly, knowledgeable staff at Prestige Lexus, thousands of local car shoppers have become proud Lexus owners and lessees. Prestige Lexus is owned by Prestige, one of the largest automotive dealership entities in the United States.