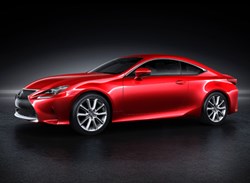 We are as excited to see the production version of the RC Coupe as our customers are. The future is bright for Lexus, and we are ecstatic that we get to be a part of it.
Ramsey, NJ (PRWEB) December 11, 2013
Executives at Prestige Lexus have seen the incredible response from customers and staff members over the recent additions of the 2014 Lexus models and can already see the excitement building for the Lexus RC Coupe. The source of much hype throughout automotive media circles and amongst Lexus fans prior to its arrival, the RC features an incredibly striking, aggressive design, and will provide drivers with both gas-powered and hybrid options when it arrives in showrooms in late 2014. The new 2014 CT 200h brings updated technology and design to its already trend-setting fuel efficient engine, joining the RC Coupe as one of the most intriguing vehicles for the future of the company.
"We all saw the teaser images and heard a lot of the details before the RC Coupe was put on display in Tokyo, but I think I can safely say that it greatly exceeded our expectations," said Joe Billotti, General Manager of Prestige Lexus. "Its exterior design is flawless, the performance details sound incredible, and we are as excited to see the production version of this vehicle as our customers are. The future is bright for Lexus, and we are ecstatic that we get to be a part of it."
The RC Coupe represents a return for Lexus to the realm of the luxury two-door vehicle. It was designed from the ground up with responsive handling and world-class refinement in mind. Though it takes some design cues from both the IS and the GS, the RC is a stand-alone model with completely unique dimensions. It features the most pronounced version yet of the increasingly recognizable Lexus spindle grille, as well as a unique, flowing exterior design. Two powertrain options have been announced: a gas-powered, 3.5L V6 option as well as a hybrid version with a 2.5L V6 engine aided by a 105-kW electric motor. These engines will produce 314 and 217 horsepower, respectively.
Lexus also recently showcased the stylish 2014 Lexus CT 200h, a re-imagining of the popular hybrid hatchback that delivers some of the best fuel economy in the industry for a luxury car (42 mpg combined). Featuring the same starting price tag as the 2013 model, the new CT 200h will be equipped with the patented Lexus spindle grille, LED daytime running lights, a new five-spoke wheel design, and an updated interior with some of the latest technology and design from the engineers at Lexus. The 2014 CT Hybrid will arrive at Lexus dealerships in late January or early February 2014.
As part of the Lexus December to Remember Sales Event, the 2013 CT 200h can be leased for just $299 per month for 27 months with$1,399 due at signing.* Customers interested in learning more about future Lexus models like the RC Coupe or the wide variety of vehicles currently available at Prestige Lexus should visit PrestigeLexus.com or call 201-825-5200.
About Prestige Lexus
Prestige Lexus of Ramsey is an authorized Lexus dealership that provides areas of New Jersey and New York with quality Lexus vehicles, service, and parts. Thanks to the friendly, knowledgeable staff at Prestige Lexus, thousands of local car shoppers have become proud Lexus owners and lessees. Prestige Lexus is owned by Prestige, one of the largest automotive dealership entities in the United States.
*Available on approved credit to very well qualified customers through Lexus Financial Services and participating Lexus dealers on a new 2013 CT 200h. Not all customers will qualify. Offer based on MSRP of $33,823 including delivery, processing and handling. Monthly payment may vary depending on final price of vehicle & your qualifications. Miles over 10,000 per year are $0.25 per mile. Vehicle and lease program details available from dealer. Offer valid through 1/2/2014.
Sources:
pressroom.lexus.com/releases/lexus+unveils+rc+coupe+2013+tokyo+motor+show.htm pressroom.lexus.com/releases/lexus+2014+ct+200h+pricing.htm