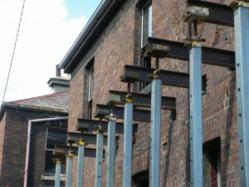 Our SuperProps range is an efficient way to support existing walls, roof sections or beams on refurbishment projects, whether they be residential, commercial or industrial
Williamstown, Victoria (PRWEB) February 16, 2013
Preston Hire Intelligent Building Solutions and Steven Preston are pleased to announce the use of Preston Hire SuperProps in a recent refurbishment project.
The residential project occurred in Melbourne, however to ensure the best solution for the project is sought out the client decided to search the Internet to choose the best company with the most experience and expertise. They found Preston Hire to be the most reliable and experienced company for their propping needs.
This was a tricky project. It required the contractor to completely remove the ground to first floor brick walls. Then to support the brick wall of the second floor, a steel lintel was installed at the first floor level. Finally, a glass wall was placed which would reach from the floor to the first floor.
The difficulty, from the point of view of the contractor, was that during the construction project, the brick wall above the first floor had to be supported. Preston Hire not only provided him with heavy duty props he required but also provided him with a complete propping solution for his project. This entire process took the builder about 10 working days to complete and the job was a success for both the builder and the client.
According to Steven Preston speaking in a recent interview, "Our SuperProps range is an efficient way to support existing walls, roof sections or beams on refurbishment projects, whether they be residential, commercial or industrial. What initially seemed to be a difficult exercise turned out to be a simple task with the use of Preston's SuperProps range."
You can learn more about how Preston Hire's SuperProps, Peri props, acrow props and Gass prop range are able to provide refurbishment project solutions with dependable equipment and supplies by clicking on the links at http://www.prestonhire.com.au
Members of the press and others who have additional questions about the tools and equipment described in this press release should contact Steven Preston at the location provided below.