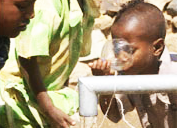 Preston Hire signed on as a partner in July of 2012, and chose to focus on the need for access to clean water in Malawi and Ethiopia
Melbourne, Victoria (PRWEB) December 18, 2012
Preston Hire has long been engaged in charitable giving as a way of providing value to the community both as a provider of construction equipment and on a more immediate human level. This year for Christmas, Preston Hire are celebrating the closing in on the major milestone of having provided clean water for a day to a total of a quarter million people in need.
Children are dying every day as a result of contaminated drinking water. In fact, it is estimated, a child dies on an average of every eight seconds as a result of this problem. In many places, the only source of water available is the same as where animals drink and leave their waste. The consequences of this go beyond the death toll, and also include many more children who become ill and miss school due to bad water as well. This means many lives can be saved, and suffering prevented, by an act as simple as digging a well. 
Preston Hire elected to partner with an organization known as B1G1, or Buy 1 Get 1. As that organization explains in its marketing to potential participants, "You sell something – some real measurable good gets done." Essentially, each time a company makes a specific type of sale, they commit to also make a contribution to create a specific beneficial outcome in the world.  B1G1's role is to act as a monitoring service which ensures the integrity of this approach is maintained and all of the money being contributed makes it to the intended cause.
Preston Hire signed on as a partner in July of 2012, and chose to focus on the need for access to clean water in Malawi and Ethiopia. By early December, they had already donated enough money to provide clean water for a day to 201,394 people. Now, as the holiday season and the New Year approach, B1G1 reports they are at 222,331 days of water donated, and averaging a monthly contribution of 37,055.
Preston hire is committed to giving clean drinking water to underprivileged people this christmas season.
Preston Hire is a company that prides itself on providing construction sites with the best solutions the industry can offer for their building needs. They offer a variety of decks, propping solutions, temporary bridges, walkways, concrete formwork, and overhead protection options. Everything they hire out is always tested, approved, and ready to go so customers can rely on the fact they will be receiving high quality equipment which will help their operations run smoothly and stay on schedule.