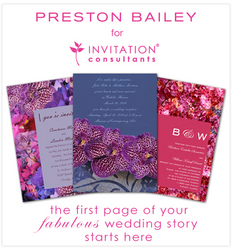 This invitation line has an array of floral designs and colors, which comes from my event designs, for brides to choose from to match her special day's theme
Tampa, FL (PRWEB) October 19, 2009
The invitation is the first page of every couple's wedding story. Today every bride can have style-expert and celebrity wedding designer Preston Bailey, who has handled events for Donald Trump, Uma Thurman and Oprah Winfrey, a part of her wedding day. Invitation Consultants, a full service, online company that offers special occasion invitations is offering Preston Bailey for Invitation Consultants, a range of elaborate floral wedding invites.
"Working with Preston Bailey on this project has been exciting and we are eager to offer his first invitations coming to market," said Allison De Meulder, CEO of Invitation Consultants. "The essence of Preston's floral designs truly shows through in each invitation and we are excited about future designs being added to his line."
"This invitation line has an array of floral designs and colors, which comes from my event designs, for brides to choose from to match her special day's theme," said Preston Bailey. "Working with an experienced company, Invitation Consultants did an amazing job taking my creations to another level, offering it on paper, for everyone to experience."
Preston Bailey's Invitations are the first he has offered and will range between $2 and $4, with additional imagery and prints to be added. For more information about Invitation Consultants or Preston Bailey's invitation line, please visit: http://www.invitationconsultants.com.
About Invitation Consultants, Inc.
Invitation Consultants is a full service, online invitation company based in Tampa, FL, that assists customers in selecting, ordering and personalizing wedding invitations, special occasion announcements and stationery for every style and event. The company was founded in 1999 by Allison De Meulder. Currently, Invitation Consultants offers consumers 9,000 products. To learn more about Invitation Consultants and its offerings, please visit invitationconsultants.com.
About Preston Bailey
Preston Bailey (http://www.prestonbailey.com) is one of the premiere event designers in the business. With 30 plus years of experience, he is best known for his ability to completely transform raw, ordinary spaces, into sumptuous, theatrical environments, translating his clients' fantasies into awe-inspiring reality. His one-of-kind events have attracted such clients as: Donald Trump, Oprah Winfrey, Uma Thurman, Joan Rivers, Donna Karan, Liza Minnelli, Matt Lauer, Catherine Zeta-Jones and others. Also an author, he has written three bestselling books entitled Design for Entertaining, Fantasy Weddings and Inspirations. His fourth book, Celebrations was released by Rizzoli New York October 6,2009.
# # #