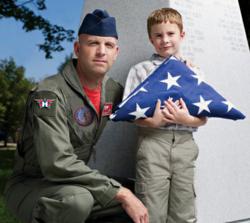 We're proud to make our contribution to the Folds of Honor Foundation an annual drive every September.
Sussex, WI (PRWEB) September 04, 2012
For the second consecutive year, Prestwick Golf Group will be contributing a percentage of sales to benefit the Folds of Honor foundation. Through scholarships and other educational assistance opportunities, Folds of Honor helps ensure brighter futures for the families of those who have served, honoring their sacrifice and inspiring a greater sense of patriotism. Over 3500 scholarships have been awarded, to date, changing countless lives in the process.
"We're proud to make our contribution to the Folds of Honor Foundation an annual event every September." Said Mike Fryatt, Executive Vice President of Prestwick Golf Group. "It's the right thing to do. Our customers have spoken and showed that they are proud to be a part of it too."
In 2011, golf courses across the country bought furnishings from Prestwick Golf Group and were proud to have joined in the effort of honoring our service men and women.
A portion of sales from Prestwick Golf Group's sister brand, Great Lakes Golf Course Products' sales will be going toward the Folds of Honor September drive as well. GLGCP is an online outlet for golf course accessories such as basic tee markers, rope stakes, hazard markers and more. Most GLGCP products ship in 48 hours and all come with free shipping to anywhere in the contiguous United States.
Time-honored craftsmanship, exemplary service and a culture of innovation set Prestwick apart as the leader in tailored golf course furnishings. Some of Prestwick Golf Group's tailored furnishings include Bag Drop and Executive Podiums, Golf Bag Racks, Driving Range Station accessories, Water Bottle Boxes, Club Washers, Waste Enclosures and more.
From humble beginnings in 1997, Prestwick's tailored furnishings can now be seen on 78 of America's 100 Greatest Golf Courses as rated by Golf Digest, on 43 courses hosting 2011 PGA Tour stops, including all Major Golf Championships in the U.S. and in 45 countries worldwide.