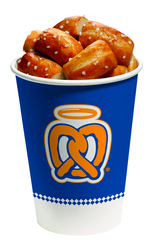 Lancaster, PA (Vocus) September 20, 2010
Auntie Anne's most popular pretzel flavors are now available as bite-size pretzel pieces. Last week, the world's largest hand-rolled soft pretzel chain began selling Original and Cinnamon Sugar flavored Pretzel Nuggets. The new, easy-to-eat menu item provides consumers with the convenience and portability they have requested as they partake of Auntie Anne's while shopping, traveling, or picking up a snack in between classes.
Auntie Anne's is supporting the release of this new product with an in-store campaign focused on Nuggets O' Wisdom. Point of purchase posters will feature popular sayings with a clever pretzel twist. Headlines include, "Wheresoever You Go, Go with a Pretzel," "Good Things Come to Those Who Eat Pretzels," "The Best Things in Life are Dipped in Cheese," and "Take Everything with a Grain of Pretzel Salt." Consumers can read additional Nuggets O' Wisdom by visiting Auntie Anne's social networking channels, including Facebook and Twitter.
Auntie Anne's Pretzel Nuggets are served in a 16-ounce paper cup, and the serving size for this new product is 25 percent more than a standard pretzel. Prices vary per store location. Pretzel Nuggets are available at all 850 Auntie Anne's domestic store locations for a limited time through Nov. 7.
As with other Auntie Anne's pretzel flavors, Pretzel Nuggets carry a Perfect Guarantee; if a customer does not love his or her pretzel, Auntie Anne's will replace it with one he or she does love. Furthermore, customers who sign-up for Auntie Anne's Pretzel Perks monthly e-mail program will receive special coupons for Pretzel Nuggets and other Auntie Anne's products.
Auntie Anne's mixes, twists and bakes pretzels to golden brown perfection in full view of customers in 1,090 locations, including 24 countries. The concept serves fresh, hot pretzels from the oven in up to nine flavor varieties. For more information, visit auntieannes.com, facebook.com/auntieannespretzels, or twitter.com/auntieannes.
###