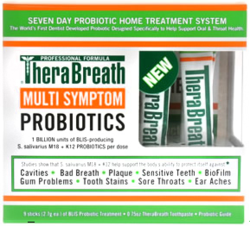 Prevent Cavities from Halloween Candy and Sugar with Therabreath® Oral Probiotics!
(PRWEB) October 24, 2012
To help prevent cavities from Halloween candy and promote oral health before, during and after Halloween, Dr. Katz and his TheraBreath Oral Hygiene Products company have a created TheraBreath line of probiotics that contain beneficial bacteria that may help the body's ability to fight and prevent cavities. This unique probiotic introduces naturally occurring oral bacteria into the throat and mouth that are highly effective in working with your mouth's environment to reduce the occurrence of cavities, tooth decay, gum disease and bad breath.
Bacteriologist and dentist Dr. Harold Katz created his line of TheraBreath Probiotics to promote the practice of good oral hygiene in children as well as in adults. Aktiv K12 (one of the beneficial bacteria) is all natural, safe to use and contains no genetically modified substances that may produce allergic reactions. By providing the benefits of naturally occurring bacteria that are chemically designed to eliminate harmful oral microorganisms, parents can help prevent the evolution of dental caries and gum disease in themselves as well as in children and adolescents who overindulge in Halloween candy and other sugary foods.
Types of Probiotics
Dr. Katz has combined two powerful probiotics called M18 and BLIS K12 in his special TheraBreath Multi Symptom Probiotics. It is an easy to use system that maintains excellent oral hygiene by quickly stimulating the balance of naturally occurring bacteria that are beneficial to teeth and gum health. In addition, TheraBreath's Aktiv K12 probiotic products can stop the destructive acidic demineralization of dental enamel and the growth of dental caries when used regularly. Unless dental caries are prevented from proliferating and overwhelming the mouth, teeth and gums may suffer oral diseases resulting in tooth loss and possible damage to the bone supporting the teeth.
TheraBreath's Aktiv K12 Probiotics contain natural peppermint flavor, maltodextrin, trehalose and over 100 million Streptococcus Salivarius bacteria that produce an antimicrobial peptide called BLIS, or Bacteriocin-like Inhibitory Substances. In addition to eradicating bacteria responsible for tooth and gum disease, BLIS is currently being researched regarding its ability to prevent strep throat and rheumatic heart disease by neutralizing a strain of bacteria called S. pyogenes.
Dental Health and Children
Unfortunately, children's oral health is often neglected due to a number of factors that include socioeconomic status and parents simply being unaware of the consequences of poor oral hygiene practices. The United States Public Health Service reports that dental caries are the most common of all chronic childhood diseases, affecting nearly 50 percent of five to six year olds and more than 50 percent of adolescents. Dental caries are bacteria that are responsible for the development of cavities and tooth decay, both oral health issues that may lead to gum disease and periodontitis if not treated expeditiously.
Excessive sugar intake is known to stimulate bacterial activity that leads to enamel erosion and rapid tooth decay, conditions usually resulting in loose teeth, cavities, bleeding gums and abscessed teeth. Moreover, children who experience oral health problems due to poor oral hygiene often experience other health conditions as well (U.S. Department of Health and Human Services).
Probiotic Treatment
TheraBreath's Multi Symptom Probiotics home treatment system includes nine sticks of this specially formulated probiotic agent to be mixed into a gargle/rinse solution, a tube of TheraBreath toothpaste and a guide to using this seven-day probiotic oral care system. TheraBreath also provides the world's first Aktiv K12 Probiotic chewing gum that targets and eliminates anaerobic bacteria responsible for bad breath, cavities and gum disease. In addition, clinical research results regarding the efficacy of probiotics on overall health reveals that this type of naturally beneficial bacteria can reduce instances of otitis media (inner ear infection) and enhance optimal functioning of the immune system in both adults and children.
TheraBreath Probiotic products are safe for children over three years of age and do not contain gluten, casein, lactose or any artificial colors or flavors that could induce allergic symptoms in children with either natural or synthetic food sensitivities. Many oral hygiene products contain unnatural and superfluous ingredients in order to make the product more appealing to consumers without regard to the harm that the ingredients may cause to sensitive children and adults.
Adults as well as children who suffer the negative health effects of poor oral hygiene can potentially experience disorders and diseases such as heart disease, metabolic syndrome, general blood infections (sepsis) and respiratory illnesses. Harmful bacteria that cause oral diseases are highly generative and adaptable, easily invading other areas of the body where they quickly find other microorganisms to consume and tissues to infect. Neglecting to monitor oral health during Halloween as well as any other time of the year not only promotes deterioration of gums, teeth and the bones that support the teeth but can also prove to be a culpable danger to physiological systems vital to a person's overall health. Does that mean there shouldn't be Trick-or-Treating this year? We wouldn't go that far. A few pieces of candy followed up with proper oral hygiene should be fine, but if you're look to be a little more proactive about your oral health, oral probiotics are for you.