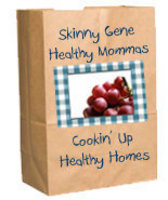 Adults are not the only ones who have to worry about the jiggle that some of us have around the middle. As masters of the kitchen, by making healthy choices, parents can single-handedly fight childhood obesity in their homes.
San Diego, CA (Vocus) July 6, 2010
The Skinny Gene Project launches a new mom-centered program on Facebook to engage moms in conversations about the importance of creating a healthy home to prevent type 2 diabetes and fight childhood obesity.
Skinny Gene Healthy Mommas is the latest in a growing trend of social media-based initiatives created by this award winning organization - recipient of the 2010 #influencesd non-profit of the year award for spreading their message about diabetes prevention in innovative ways.
Consistent with Skinny Gene's education-based approach to influence others to make positive lifestyle changes, Skinny Gene Healthy Mommas combines casual Facebook conversations about being a parent with a how-to guide to making healthier food choices and creating a healthier home.
Beginning July, 2010, under the direction of the Skinny Gene Project Registered Dietitian Emily Barr, MS,RD, CNSC , the Skinny Gene Project will offer all members free or low cost interactive nutrition classes (via WebEx webinar) to teach current or aspiring Healthy Mommas how to incorporate nutrient-rich foods into their family's diets.
D'Lana Dismuke, President of the Board of Directors for the J.Moss Foundation/Skinny Gene Project, states, "We are committed to helping communities by focusing on where fundamental education begins, in the home. With Skinny Gene Healthy Mommas, we are providing sound nutritional advice and engaging a community of women interested in providing the very best for their families. Through these efforts, it is our goal to cook up healthy homes—one spatula at a time."
The first topic in the Healthy Home Series, How to Balance Your Family's Different Nutritional Needs, will explain the dietary requirements for each child and adult in the household. The class will discuss strategies for meal planning and how to adjust to the ever-changing needs of a growing home.
"Group classes allow us to offer solutions in a time when the diabetes epidemic is running ramped and we're in desperate need of a nutrition intervention. Whether we're sharing information in a group setting or during a 1-on-1 personalized counseling session, our hope is to make our resources accessible to those ready to take steps towards improving their health."
Dates and times for all Healthy Home nutrition classes will be posted on the Skinny Gene Healthy Mommas' Facebook wall.
"Making changes can be difficult. We wanted to use Facebook as our audience, Adults 21-44, is comfortable in this environment and more likely to join a conversation and share practical advice. This channel also allows us to have an open dialogue in which we offer recommendations on small changes that can be easily executed."
In honor of National Dairy Month, Emily Barr used Skinny Gene Healthy Mommas to create awareness about the importance of eating 3 servings of dairy a day to reduce adipose tissue, also known as belly fat. This topic is of particular interest to Skinny Gene, due to the high correlation between this type of fat and an increased risk for heart disease and type 2 diabetes. Barr offered suggestions on Facebook about how to incorporate low-fat dairy into the daily diet, and she supplemented these tips with the blog post, Getting Rid of the Jiggle Around Your Middle.
"Adults are not the only ones who have to worry about the jiggle that some of us have around the middle. As masters of the kitchen, by making healthy choices, parents can single-handedly fight childhood obesity in their homes."
Adult-onset and childhood obesity are exasperated by the lack of nutrient-rich food being consumed in households every day. This can be attributed to both lack of funds and information. Government programs like the Improving Nutrition for America's Children Act hope to fill the nutritional gaps by addressing the need to provide children with nutritious meals in and out of schools.
The Skinny Gene Project hopes to enrich families' lives by providing them with the opportunity to receive the information needed to make healthy choices and embrace a long-term healthy lifestyle.
About Skinny Gene Project
The Skinny Gene Project (a division of the J. Moss Foundation) is a 501(c)(3) non-profit organization dedicated to preventing diabetes. We help to educate those who are at-risk; empower them with the resources, tools, and support needed to make healthy lifestyle changes; and teach them how to make the long-term social, environmental, and behavioral changes needed to prevent the onset of type 2 diabetes.
###