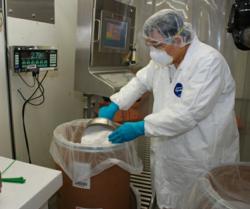 … the raw materials are identified by reading a bar code, lots are verified the same way, precise amounts dispensed are recorded through the PC link to the scale and it is all 'real time'
Fairfield, NJ (PRWEB) August 07, 2012
Companies spend millions of dollars bringing a new product to market. Valdata Systems, the renowned Chemical Management System provider, is actively helping companies protect their new product investment by reducing recalls due to human error on the shop floor.
Valdata's core Chemical Management System ("CMS") uses container level barcode"license plates" to track the disposition and quality status of all raw materials and finished goods inventory. The system presents batching and manufacturing orders electronically, requiring operators to follow step-by-step procedures and preventing them from progressing should an activity not be performed within the specific parameters required by the recipe. The system integrates with scales on the shop floor to ensure that every item is weighed precisely, and shuts the process down in the event of an over-pour.
One of Valdata Systems customers had this to say:
" … the raw materials are identified by reading a bar code, lots are verified the same way, precise amounts dispensed are recorded through the PC link to the scale and it is all 'real time'." Gerry Ferrara, Kerry
Valdata Systems customers have experienced a dramatic reduction in manufacturing errors and recalls while at the same time increasing productivity and improving inventory accuracy.
About Valdata Systems
Headquartered in Fairfield, NJ, Valdata Systems is a premier provider of Chemical Management solutions specifically targeting the Pharmaceutical, Flavor & Fragrance, Nutraceutical and Chemical Manufacturing industries.
For more information on Chemical Management Systems, Inventory Control Systems, Recipe Manager and other products provided by Valdata Systems please visit: http://www.valdatasystems.com