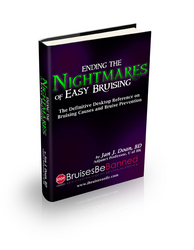 Why is this happening to me?
Jacksonville, FL (Vocus) June 2, 2010
Jan Doan, the self-proclaimed Doctor of Bruiseology, announces the free availability of the Introduction and Part I of his recently published book that provides the answers to the questions raised by people who suddenly find that the tend to bruise easily. The book is entitled Ending the Nightmares of Easy Bruising or The Definitive Desktop Reference on Bruising Causes and Bruise Prevention.
When many people suddenly begin to discover bruises on their arms and legs with no real understanding of what could have caused the bruising, they typically ask "Why is this happening to me?"
Doan responds from personal experience "When I began bruising easily, there was no single source that I could find that had answers to my questions of 'Why me? and How can I stop bruising'?"
This new, unique book answers, in plain English, the questions of the whys and hows of the causes of easy bruising. It also clearly outlines some simple lifestyle changes or additions that people can adopt to reduce bruising or prevent easy bruising altogether.
Mr. Doan further commented "You could find information about easy bruising scattered all over the internet and in medical research papers, but there was absolutely no single source for information on either the causes for easy bruising, or any true guidance on how to overcome the tendency to bruise easily. With this book, that's no longer the case."
Folks can find life changing answers from the book to questions like these:

What exactly causes a bruise to form?
Why have I just started to bruise easily for almost no reason?
Does my lifestyle have any affect on my easy bruising?
Is there anything I can do to prevent bruising?
Doan also stated "It's so much easier to deal with a problem, if you can seek solutions from a central knowledge base.", and that's the whole reason for his having written this book and making Part I available for free.
For more information on getting Part I of the book free, visit http://www.ibruiseeasily.com
###