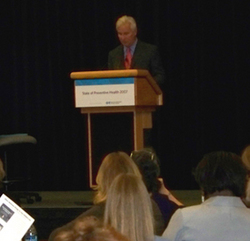 We want to help other workplaces take advantage of these success stories.
Chapel Hill, NC (Vocus) October 18, 2007
Should the boss be a health coach? Should workers with unhealthy habits be penalized? Employers are of two minds when it comes to the health of their employees, according to a recent poll commissioned by Blue Cross and Blue Shield of North Carolina.
Most (68 percent) of North Carolina employers surveyed by BCBSNC believe strongly that health is linked to productivity, and almost as many (62 percent) strongly agree that there is a connection between worker health and health care costs'. However, less than a third of employers feel strongly that they do or should influence worker health².
This disconnect may explain why employers have been slow to adopt programs and policies to promote physical activity, nutrition, and other preventive health policies and programs at their workplaces. In June, BCBSNC surveyed more than 400 employers it covers and presented the results at its 2007 State of Preventive Health summit today in Raleigh.
"The majority of us spend most of our waking hours on the job, and the habits and attitudes we develop at work have a real impact on our health and the cost of our medical care," said BCBSNC President and CEO Bob Greczyn. "Comprehensive workplace wellness programs can return $3 or more for every $1 invested, but we've got a lot of work to do to persuade employers that worker health is their concern and that programs are worth the time, effort and money."
On average, companies covered by BCBSNC offer four health and wellness programs or policies. Employers tend to choose programs and policies that have the lowest cost and logistical impact on their companies and involve the least intervention with employees on health matters. The most common offerings are: a smoke-free area (67 percent), an entirely smoke-free workplace (65 percent), paid time off for doctor visits (61 percent), opportunities for physical activity during the workday (37 percent) and discounts for gym memberships (15 percent).
BCBSNC found North Carolina workplaces of a variety of sizes implementing innovative and often low-cost programs and policies to promote the health of their workers:

At Phillips Architecture in Raleigh, the company's 30 employees lost a combined 150 pounds after the company hired a nutritionist to spend a day on site and began catering healthy lunches.
Employers Grapple with Health Role

The City of Lenoir offers free recreation center access to its 270 workers and their families and provides discounted sports league memberships for their children.
Cypress Landing Golf Club in Chocowinity encourages its 27 employees to play golf during breaks and free time, offers seminars on avoiding workplace injury and provides healthy café options.
At Grady-White Boats in Greenville, the company's 260 employees have access to an onsite health clinic and a company wellness program, under which they can earn up to $25 a month for controlling high blood pressure and diabetes, losing weight, stopping tobacco use, exercising regularly or maintaining a healthy body-mass index.
"These employers demonstrate that healthy eating, activity and preventive care can be woven into the workday in a way that's convenient and fun for workers and not disruptive to business needs," Greczyn said. "We want to help other workplaces take advantage of these success stories."
The National Business Group on Health has named BCBSNC one of the nation's top employers for promoting healthy lifestyles, and the company has developed a variety of resources to help workplaces take steps toward wellness.
Recognizing that time and budget constraints prevent many businesses from offering formal wellness programs, BCBSNC offers workplace wellness toolkits to help companies overcome such barriers. These instructional tools address issues including physical activity, tobacco cessation, weight management and nutrition, as well as managing conditions such as high blood pressure, high cholesterol, diabetes and asthma. The company also provides suggestions for worksite physical activity challenges and other low-cost, easy-to-implement healthy workplace programs and policies. The company also offers health risk assessments and other programs to gauge the health of an employer's workforce and direct workers to BCBSNC and community resources for care management, nutrition and activity.
As part of BCBSNC's State of Preventive Health report, TRC – a market research firm based in Fort Washington, Penn. – interviewed health insurance decision makers at 409 North Carolina companies. The poll took place between June 15 and June 29, 2007 and has a 4.8 percentage point margin of error.
About BCBSNC:
Blue Cross and Blue Shield of North Carolina is a leader in delivering innovative health care products, services and information to more than 3.5 million members, including approximately 815,000 served on behalf of other Blue Plans. For 74 years, the company has served its customers by offering health insurance at a competitive price and has served the people of North Carolina through support of community organizations, programs and events that promote good health. Blue Cross and Blue Shield of North Carolina is an independent licensee of the Blue Cross and Blue Shield Association. Access BCBSNC online at http://www.bcbsnc.com
#-#-#
'Represents the percentage of employers who rated their agreement at 8 or more on a 10-point scale with the statements "An employee's health is strongly linked to his or her productivity," and "There is a connection between employee health and health care costs."
²Represents the percentage of employers who rated their agreement at 8 or more on a 10-point scale with the statements "Employers do have an influence on employees' health," and "Employers have an obligation to influence employees' health."