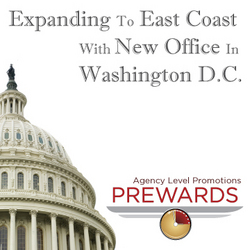 In a time where everyone is saying 'layoff' and 'cut,' it's refreshing to work for a company that has set itself up to expand and grow
Mount Prospect, IL (PRWEB) September 21, 2009
Having built a solid base of operations for the better part of the last 3 decades, Agency Level Promotion leaders Prewards Ltd. is now preparing to open a satellite office on the East Coast in efforts to further expand its accompanying already-impressive client roster and provide them with the same unparalleled service their Midwest clients consistently rave about.
Vice-President Matthew Baron will begin the process in October with a concurrent move out to Washington D.C.
"I'm extremely excited about this expansion and the opportunity to develop our partnerships out east. Many of our current clients already have offices in that part of the country, which makes it our second biggest market; this means that the D.C. Metro area is the place and now is the time. I'm looking forward to developing our existing partnerships, as well as branching out and creating new ones," says Baron, who is also Director of Marketing.
Despite the countries' tough economic times, Prewards has managed to double its revenues over 2008 through the acquisition of several key clients, paving the way for the current plans.
"In a time where everyone is saying 'layoff' and 'cut,' it's refreshing to work for a company that has set itself up to expand and grow," says Jake Goodman, Production Manager. "Besides our unparalleled customer service, we have positioned ourselves as industry leaders in the areas of product safety and testing. It's a cause we have passionately committed to because it puts our clients' minds at ease to know we're watching out for the end-users of our products."
President Barbara Baron has developed Prewards into a full-service marketing powerhouse that has accumulated a cadre of big-name clients. These clients include McDonald's, Golin Harris, Ogilvy, The Marketing Store, DDB, and Maddock-Douglas, just to name a few. These companies come to Prewards for a range of services such as Promotional Products, Custom Apparel, Print Media, Event Signage, Multimedia and more. "It's all about customer service. Without it we're just another company, but with it our growth potential is limitless. I have no doubt that it's our stellar reputation that has gotten us where we are today and will continue to push us forward into the future," said Baron, also Owner of Prewards.
Prewards East will be centralized largely in the surrounding Washington D.C Metro area. The company also has plans to launch two additional locations in the future, one on the West Coast and one overseas.
If you'd like more information about the new location, or to schedule a Lunch & Learn presentation for your company contact Matthew Baron - V.P. and Director of Marketing at 847-297-7700.
Visit Prewards online at prewardsltd.com
# # #