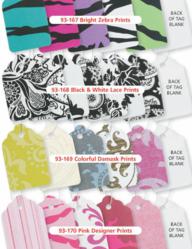 Adding a pattern or design to colored paper price tags is just one simple way retailers can enrich the store's charm and charisma, while also indicating to customers who they are.
St. Louis, Missouri (PRWEB) September 21, 2011
Price tags do not have to be boring. Store Supply Warehouse has recently launched a collection of retail price tags with various designs and colored patterns, adding an interesting conceptual idea to displays and showrooms. The new line can help to add the finishing touches to store displays, making the price tag both an appealing accessory and an important branding tool.
Instead of using the price tag to simply convey the price of the item, the retailer can use them to brand their boutique. Featuring four different assortments, retailers can select the style most suitable for their stores. When customers purchase items from the stores, they are now taking a piece of that boutique home with them.
"Adding a pattern or design to colored paper price tags is just one simple way retailers can enrich the store's charm and charisma, while also indicating to customers who they are," said Matt Wohlstadter, President of Store Supply Warehouse. "It's an easy and affordable way for them to synchronize their displays with the aesthetics of the shop."
The string paper tags include assortments of the following patterns:

Bright Zebra Prints: the key to energy, funk and charisma. This assortment features black zebra stripes over a variety colored background including teal, pink, lime green, purple and white.
Black & White Lace Prints: when sophisticated chic is the goal, these black and white tags, designed with French country patterns, add elegance to store displays.
Colored Damask Prints: a popular, yet subtle design. These particular tags add elegance through a variety of subtle patterned colors, including white, gray, brown, yellow and pink.
Pink Designer Prints: the answer to fashion-forward displays. These tags add femininity to store displays through a variety of pink patterns.
"The assortments are perfect for the boutique retailer because there are numerous options for a store's displays. Each assortment includes 500 tags in five different patterns, creating a variety pack. A retailer can keep the same design using a mixture of tags in order to establish fluidity from the displays to the price tags featured on the items they sell," said Wohlstadter.
All tags are blank on the back, allowing personalization for information like pricing, sizing or textiles that retailers may need to provide to their customers. All tags measure 1-1/16" wide by 1-5/8" tall which allows enough room for writing or price stickers.
Store Supply Warehouse offers competitive pricing on its whole selection of price tags, including its new line of paper tag assortments. With same-day shipping on orders placed before 3 p.m., 87 percent of retailers can be reached by the next day.
For more information on price tags and Store Supply Warehouse's new product lines, please visit the website: http://www.storesupply.com.
About Store Supply Warehouse
Store Supply Warehouse was founded in 1994 in St. Louis, and has since seen immense growth, selling retail fixtures and retail store supplies, including display cases, racks and shelving, shopping bags, hangers, pricing and tagging guns and mannequins. The distribution chain takes pride in its quick transaction process, efficient delivery, and quality customer service. Products are available for purchase through Store Supply's catalog, which is updated and distributed four times a year, or online at http://www.storesupply.com. Same-day shipping is guaranteed on all orders placed before 3 p.m. The company's main office is located at 9801 Page Avenue, St. Louis, Missouri, 63132. Contact Store Supply directly at 800-823-8887 or by email at contactus(at)StoreSupply(dot)com.
# # #