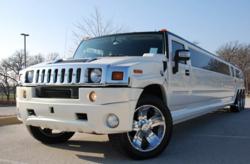 Today, this isn't 'Cinderella' transportation; limousines are viable for all sorts of travel needs.
Miami, Fla. (PRWEB) January 15, 2013
While the chauffeur-driven limousine was once the domain of Hollywood stars and Wall Street tycoons, the wide-spread availability - and the resulting healthy competition among companies that specialize in this market - has made this form of transportation a very attractive option for both special occasions and group travel.
For many, the very word "limousine" conjures a specific image: A sleek, black sedan with a uniformed driver whisking a corporate executive to his Fortune 500 office. Or celebrities arriving at a high-profile destination, shielded against Paparazzi. While these applications are still in play, today's limousines cater to all sorts of clients and rental needs, from prom night to transporting the entire staff to the convention center.
There are a number of other myths surrounding this industry, and for those just becoming aware of the wonderful world of limousines, Hummer limos and party buses, here's a little light on the subject:
Be Aware of Your Carbon Footprint
At first glance, it seems logical that the larger the car, the bigger the environmental impact. If, however, one vehicle takes the place of many - as in transporting the cheer-leading squad to camp or getting two dozen people to a concert - there are actually fewer emission involved. Numerous occasions lend themselves to group travel, such as parties and events. Today's luxury rentals are available in a range of sizes, some accommodating up to 50 passengers.
Negotiate for a Good Price
The fact is, everything is negotiable. And with more services competing for business, it's usually possible to find specials or to negotiate rates, especially if you're trying to get extended hours, upgrade to larger vehicles or add on special features.
Limousines are Ideal for Groups
For starters, prices have become very affordable, thanks to the evolution of the market and the natural competition created. The cost of driving - fuel, parking, tolls and other expenses (not to mention the potential for traffic tickets or legal issues if there is alcohol involved) compared to the cost of a limousine becomes very attractive on a relative level. And since the charge can be split between the passengers, the expense of employing a limo decreases even more - especially with large groups that would require multiple cars or vans.
Rentals are For an Entire Evening
Not true; although there is usually a minimum charge based on a two or three-hour rate. The rental itself, however, can be a brief or one-way service, such as airport pickup or dropping off at the cruise ship.
Bargain Limos are a Better Deal
Bargain is a relative term. Often the hidden fees, such as fuel surcharge, driver tip and other "fine print" costs make this the most expensive option. While there are definitely find some real deals out there, don't jump based on advertised price alone - especially if the company's only strong point is a low price.
While there are strict business and legal guidelines for the limousine industry, the rapid increase of privately-owned companies has also created the opportunity for disappointment. Price 4 Limo was started their limousine service, over ten years ago. Since then, they've seen the industry - and the demand for limo service - grow exponentially.
"We started in New Jersey with one party bus," explains Tyler Allen, a manager at Price4Limo.com. "We expanded our fleet, and we learned how to provide the best service by affiliating with other limo companies so we could arrange for all styles and serve more areas. Today, this isn't "Cinderella" transportation; limousines are viable for all sorts of travel needs."
Now based in Florida, the company has added Party Bus Rental and expanded to the national level by affiliating with other limo companies in virtually every area of the country. This enables their online site to offer everything from a pink Hummer to a Rolls Royce and to serve even the most remote locations. Customers can check prices, amenities, availability and other options, then make their reservation all on one site.
Allen says this is a big step in standardizing the industry while providing a service to both the clients and smaller independent companies. "We bring our cumulative knowledge and experience to the table," says Allen, adding that every company and vehicle represented on PartyBus-Rental.net or Price4Limo.com carries the required insurance, licensing and other credentials - and that not all limo rental agencies are created equal.
"Clients are assured of 24-hour service and that the vehicle they're looking at is up to codes. They can see all availabilities and make their reservations on one site. And the small business owner has a way to showcase his rentals, whether it's one special beauty or a whole fleet. It's really win/win."