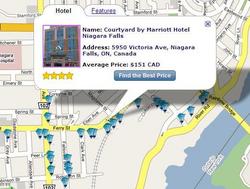 We try to list every hotel in the world in a free and honest manner and ensure everyone gets the lowest price by comparing over 30 major hotel providers at once
Toronto, ON (PRWEB) August 21, 2008
Innovative price comparison and hotels map features of the Meta search engine help make new RoadTripHelper.com the largest hotel database in the world. Users can now narrow hotel searches by specific map location and compare prices from over 30 of the Internet's most traveled websites.
As a frequent traveler, RoadTripHelper.com founder Ahmer Beg always hoped for such a price comparison site that would display hotels on a map in relation to one another. Which is why, he ensured a hotels map display of mini hotel thumbnails which can be clicked on to reveal information about each hotel in the area including the price, reviews, photos, and any extra information that has been added.
"Before RoadTripHelper, Hotel booking was inefficient and very time consuming; the location of the hotel was very important during my travels. The other issue I had was finding which site offered the best price. Now I can search all the major travel sites at once with RoadTripHelper," Beg says.
Far too often, travelers book hotels online to cut costs but end up spending more money and time on transportation because the hotel was further off then their desired location. The handy hotels map feature by RoadTripHelper lets visitors choose the most convenient location for them by simply entering an address, landmark, intersection, city, postal code, zip code, airport code or university name. Hotel searchers can zoom in and out and move around the map to find hotels as well.
This tool can be particularly useful for businesses that want to find hotels near client sites or any traveler wanting to lodge near a particular landmark like Walt Disney World, game stadium or convention center.
Thanks to RoadTripHelper's powerful Meta search engine, finding the lowest price available on the internet is easier now than ever. Rather than cross checking hotel costs on a multitude of sites, RoadTripHelper simultaneously searches through more than 30 separate sites, including Expedia, Travelocity, Orbitz, Priceline, Hotels.com, and many more.
RoadTripHelper does not mark up rates or add any booking fees. Results are unbiased and they do not favor any one hotel or site over another.
"We try to list every hotel in the world in a free and honest manner and ensure everyone gets the lowest price by comparing over 30 major hotel providers at once," Beg said.
Additionally, RoadTripHelper.com:

is the largest online hotel database in the world
compares over 900,000 hotel deals from all the major providers
contains 1,500,000 consumer reviews
displays 4,500,000 high quality hotel images
and includes 2,500,000 hotel descriptions
supports 10 languages and 118 different currencies
lists hotels in 20,000 destinations across 195 Countries
shows hotels plotted on a map for specific location searches
Besides its unique mapping and aggregate search capabilities, RoadTripHelper has other neat web 2.0 features, including driving directions to the hotel, a collaboration feature to choose hotels for groups traveling together and a filtering tool. Members can also select hotels directly from the mapping feature to their favorites list and add personal comments on individual hotels for future reference. Users are able to look at hotels by the traditional hotel lists rather than the map if they choose and choose to search by hotel or chain name such as Marriot, Holiday Inns, Westins and more.
RoadTripHelper's Google map technology combined with its Meta search engine make it the ultimate hotel search site. The technological advances of startups like RoadTripHelper are far surpassing major corporate travel brands and proving more beneficial to the traveling public.
To experience RoadTripHelper's hotels map and price comparison, visit http://www.RoadTripHelper.com.
Media Contact:
Ahmer Beg
abeg @ roadtriphelper.com
416-722-5234
###