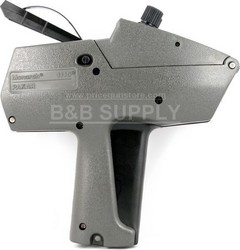 "Never before has so much information about all the top manufactures of hand held price marketing equipment been available in one place."
Morgan, PA (PRWEB) March 20, 2010
It's no secret that price marking is a very mature market. Using a label to price and identify an item has been around for well over 100 years. Today's hand held pricing guns are used for a large variety of applications. With many different options such as pricing, item identification, date and time coding, consecutive numbering, multi line character printing, its important customers trust a respected and knowledgeable seller, and B&B Supply has over 30 years experience. "We have customers that use Monarch price guns to print a date code on food products (Monarch 1131), Garvey price guns to code and keep track of inventory (Garvey 22 88), Meto price guns to label vials and jars with a wide variety of medical items (Meto 1322), and XL Pro price guns for consecutive numbering of items in manufacturing facilities," exclaimed owner Buz Brown.
B&B Supply has been selling pricing guns and price labels since 1978. Co founders Buz Brown and Bill Brown began selling Meto price guns and Meto labels to grocery stores and retail shops in the Pittsburgh area. Over the years, the business has expanded to include a wide variety of not only hand held price marking, but industrial marking systems, and grocery store and retail supplies. B&B Supply sells sign cards and labels for grocery stores including scale labels, safe handling labels, and ingredient labels. Some of our most popular scale labels are Hobart scale labels, Tec scale labels, Digi scale labels and Toledo scale labels.
"B&B Supply is changing the way you order these items with what we feel is the most advanced and comprehensive website for pricing guns and pricing labels. Never before has so much information about all the top manufactures of hand held price marking equipment been available in one place," said Buz Brown. By visiting the website http://www.pricegunstore.com, customers can view examples of a huge variety of band layouts for all the various label guns. People can see examples of labels before you buy them so you'll be able to see exactly what a preprinted or fluorescent color label will look like. All the different manufacture's label sizes and packaging is expressed on the product pages further educating the customer. Customers are finding that by being able to see how exactly the pricing gun will print before they purchase it, they can ensure that the model they select will be the best choice for their specific application. Our website helps educate the consumer. "By using our website, a hospital in Ohio was able to select the exact tool they needed (Garvey 22-8) to help keep better track of inventory. Just last month a manufacturing facility in North Carolina purchased the Monarch 1136 price gun with the printing option they needed (Monarch 1136-03) as well as Monarch 1136 labels in the exact color they were looking for," proclaimed Buz Brown. Buz went on to say, "We continue to update and improve our website daily in order to make purchasing price marking supplies simpler and more convenient."
Some of the most popular pricing guns include the Monarch 1110, Monarch 1131, Monarch 1136, and Monarch 1115. These Monarch label guns are very high quality and a Monarch price gun is very reliable for the users. All Monarch pricing guns only use the specific Monarch price labels for that gun. Therefore we sell all the Monarch labels to go with the guns such as Monarch 1136 labels, Monarch 1131 labels, and Monarch 1110 labels.
Garvey price guns have proven to be popular as well. The Garvey models 22 6, 22 88, and Garvey 22 7 are top quality guns. The Garvey 18 6 has been the largest seller through the website. Garvey has two different series of guns; G-Series, and Garvey Contact price gun. Please visit our website to view these as well as other hand held labelers such as our Meto price guns, and Towa label guns. Buz added "We continue to update and improve our website daily in order to make purchasing price marking supplies simpler and more convenient."
###