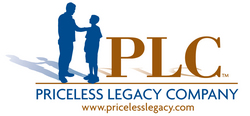 Traditionally, people's interest coalesced around geographical and special interests reflected in newspapers and magazines
Dallas, Texas (Vocus) June 4, 2009
Everywhere you look, newspapers and magazines are dying. Ubiquitous access to free, targeted information on the Internet ultimately has condemned older media forms to the dustbin of history.
So what is next for media companies?
A Dallas-based start-up called the Priceless Legacy Company thinks it has the answer. The future is in highly customized content that is assembled as a service for highly targeted micro-markets. Families, clubs, community groups, and associations of all sorts are the modern day basic social "unit" right above the individual. These groups of individuals have the closest affiliation to the emotional impact of life stories and personal history. Companies that figure out how to serve these niches with high quality, individualized product will find their futures secure.
"Traditionally, people's interest coalesced around geographical and special interests reflected in newspapers and magazines" said Peter A. Gudmundsson, CEO and Founder of Priceless Legacy. "I spent most of my career in niche magazines and web business. Today, however, people want to 'drill down' even deeper into what is important and deeply meaningful to them."
Family and personal history is a logical first step in this evolution. There is an urgency (five Americans die each minute) and a need (70% of adult admit great regret over not having taken more time to preserve a parent's life story before his or her death).
The Priceless Legacy Company is building a national network of Legacy Consultants who meet with clients to interview them, organize their photos and manage the process of creating beautiful Life Story Book packages. The company is growing quickly and enjoys a market presence in twenty-one states and one province.
'Ours is a profoundly populist message" adds Gudmundsson. "We believe that everyone's life story should be preserved and honored for the benefit of current future generations. The most satisfying aspect of our mission is seeing seniors who never before could have conceived of themselves as "authors" receive their own Life Story books after only about day of work on their part."
About The Priceless Legacy Company (http://www.pricelesslegacy.com) :
Based in Dallas, Texas, The Priceless Legacy Company is a privately held custom media publishing company dedicated to helping people preserve their life legacies for the benefit of future generations. The company serves people through its fast expanding network of Legacy Consultants. Currently active in twenty-one states and one province, Priceless Legacy's consultants meet with clients to help them record their life story. Services include interviewing, photo organizing and scanning and the production of beautiful heirloom quality Life Story Packages. The company's website is http://www.pricelesslegacy.com.
Peter A. Gudmundsson is the Founder and Chief Executive Officer of the Priceless Legacy Company. Gudmundsson's career has focused on leadership for a broad variety of media companies. Before starting Priceless Legacy, Gudmundsson served as CEO of Beckett Media LP, Design Guide Publishing Ltd. and Jobs.com. He was also President of Primedia Workplace Learning and Vice President of Development (mergers & acquisitions) for its parent company Primedia Inc. A former U.S. Marine Field Artillery Officer, Gudmundsson is a graduate of Harvard Business School and Brown University, where he majored in history.
Contact: Peter A. Gudmundsson, CEO & Founder
214.272.2363 (work)
###