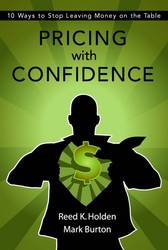 Pricing has become imperative for many companies that are struggling in this weak economy to meet their business objectives
Concord, MA (PRWEB) September 3, 2008
A new series of pricing strategy podcasts designed to help pricing managers cope with the demands of the economy has been released, it was announced today by Holden Advisors. The free podcasts by Dr. Reed Holden and Mark Burton are based on principles in their new book, Pricing with Confidence: 10 Ways to Stop Leaving Money on the Table, each podcast will provide advice to help executives and managers meet their business objectives through improvements in pricing, discounting, and selling value. Podcasts are available for download through the Holden Advisors website or through iTunes.
The first podcast, "The Pricing Imperative" is immediately available at
iTunes or through the Holden Advisors website. Podcasts will be released at the rate of one or two per week.
"Pricing has become imperative for many companies that are struggling in this weak economy to meet their business objectives," said Carolyn Holden, President of Holden Advisors. "These podcasts are designed to help busy managers deal with the complexities of the market, increase margins and, ultimately, increase profits and revenues."
Over the next several weeks, Holden Advisors will be releasing 1-2 short podcasts a week in which Dr. Holden discusses ideas that will help B2B companies grow their revenues and profits. In the course of the series, the 10-minute segments are:

How to kick your discounting habit
Understand and use as leverage the value you offer to your customer
Why you need to choose one simple pricing strategy
Play better poker with customers
Price to increase profits
How to achieve negotiating flexibility and growth through new products and services
Steps to force your competitor to react to your pricing
How to teach your sales force to build their selling backbone
How to move from cost-plus to value-based pricing
Price with Confidence
About Dr. Reed Holden
Dr. Reed K. Holden is Founder of Holden Advisors. His new book, co-authored with Mark Burton, called Pricing with Confidence: 10 Ways to Stop Leaving Money on the Table (Wiley & Sons, 2008), is one of the top ten pricing books on Amazon.com. He consults to senior executives in Fortune 500 companies, and runs targeted sessions with management teams to jump-start change in go-to market strategies to improve profitability. For recent thoughts and comments and an opportunity to speak with Dr. Holden, please see his blog: http://reedholden.wordpress.com.
About Holden Advisors
Holden Advisors is a http:pricing strategy consulting and training firm that helps clients become confident about their pricing and achieve greater revenue and profits. To ensure success, Holden Advisors delivers analysis, strategy, processes and training that are analytically sound and closely integrated with a client's business culture.
###