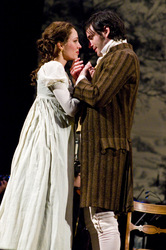 startlingly good across the board
Rochester, NY (PRWEB) October 29, 2008
A one-night-only concert performance of "Jane Austen's Pride and Prejudice, The New Musical" on Tuesday, October 21, at Rochester, NY's historic Eastman Theatre earned a lengthy standing ovation from its full house of almost 3,000, and drew glowing reviews from local press.
"Donna Lynne Champlin shone as authoress Jane Austen," says WXXI TV and radio (PBS/NPR affiliate) classical music critic, Brenda Tremblay, of the OBIE winner who happens to be a Rochester native. "By putting her onstage, the show's writers demonstrated how characters come to life and how they change and grow with their creator. Champlin stepped into the role with vibrancy and flair."
"(Laura) Osnes...makes for a gorgeously feisty Lizzy, while (Colin) Donnell...handles a deceptively thankless role, that of the dour Mr. Darcy, with sympathetic skill," writes City Newspaper critic Dayna Papaleo.
Written by two Rochester women, Lindsay Warren Baker and Amanda Jacobs, the musical adaptation is targeting a November 2009 Broadway opening.
"Warren (Baker) and Jacobs effectively retain the tone of the novel," Papaleo goes on to report, "with the oily buffoonery of the unwelcome Mr. Collins (the welcome Jim Stanek) and the worry-induced hysteria of Mrs. Bennet (Patty Goble, who does double-duty as the fearsome Lady de Bourgh) translating particularly well to showy song. "
The performances were "startlingly good across the board," she adds. "Champlin and Osnes stand out in particular, especially in scenes that find them harmonizing like empire-waisted angels. Austen would have loved all this 21st century girl power."
Producer Lori Bajorek created the one-night concert performance, which featured a 17-piece orchestra made up of musicians from the prestigious Rochester Philharmonic Orchestra and a 22-member, NYC cast that also included: Juliana Ashley Hansen as Jane Bennet; Mark Blum as Mr. Bennet; Anne Letscher, Molly Ranson and Jacque Carnahan as Mary, Kitty and Lydia Bennet respectively; John Behlmann as Mr. Wickham; Rory O'Malley as Charles Bingley and Jennifer Waiser as Charlotte Lucas; ensemble: Sarah Dacey Charles , Jonathan Michie, Kat Palardy, Jon Reinhold, Matthew Schneider, Michael Scott, Libby Servais, Eric Ulloa and Marguerite Willbanks.
"This was exactly what the show needed," Bajorek exclaims. "We know we're headed in the right direction and excited to move into the next phase of development." Part of that phase includes a three-week NYC workshop in Spring of 2009.
Rochester's Tremblay agrees: "(It) nailed the dynamic process that unfolds in the hearts of the characters. I look forward to seeing the show hit Broadway...Every disposition on the ground is good."
The Pride and Prejudice creative team includes TONY-nominated Director Mark Lamos, Associate Director Michael McGoff, Music Director Fred Lassen, Choreographer Dontee Kiehn, Set Designer Mikiko Suzuki MacAdams, Lighting Designer Dale Knoth, Costume Designer Lynn Bowling and Sound Designer Scott Stauffer. Its production team includes Executive Producer Donald C. Farber, Esq., Tara Rubin Casting, General Manager Charlotte Wilcox and Associate Producer John Quinlivan.
Media please note: High-resolution photographs from the red carpet, dress rehearsal, curtain call & after party are available electronically. Please visit http://www.prideandprejudicebroadway.com for more information.
###