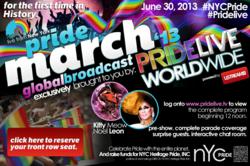 "PRIDE LIVE uses multimedia, multi-layered live playback and live directing combined with multiplatform social networking to create an a 4th dimensional LIVE experience online.
New York, New York (PRWEB) June 29, 2013
Pride Live Worldwide Media (Pridelive.tv) has partnered up with Ustream and NYC Heritage, Inc to debut the first ever live video stream from the "44th Annual LGBT Pride Parade" (The March) in New York as exclusive streaming partners. The live video stream, which will be encoded and transmitted to a global audience via satellite in wide screen super definition (with optional viewing formats compatible for mobile devices and tablets) will be live hosted complete with parade/float narration, crowd reactions, crowd coverage and front row views to the entire parade. Utilizing a full mobile HD remote production center, Pride Live's pro production team will have six operator controlled HD cameras located at different key positions on 5th avenue Capturing every moment of the celebration in the heart of the parade. The Stream content will be relayed and available via USTREAM.TV's social media integrated viewing platform. As part of the partnership, Pride Live Worldwide Media will donate a portion of each reserved "Online Seat" via payperview to NYC Heritage, INC.
Apart from being the first ever live stream to be produced during the NYC pride , the momentous occasion is hallmarked by several firsts. Andrew Richardson, 3 time Emmy wining producer/director of the NYC pride broadcast and Pride Live worldwide founder, talks about 5 years of beta testing the Pride Live experience and business model "I was fortunate enough to have crossed paths with my current partner Paul Dolan during Miami Beach Gay pride 2013 Live broadcast as my production manager. The Pride Live experience as I had always envisioned it,wasn't reaching its full potential. I needed the right resources to produce a full HD interactive and multimedia experience to a global audience. As Partner Paul brings his 20+ years of network, and live broadcast experience and a pro production team with major muscle of major network television live streaming events and production with a turnkey solution with a top notch fully Mobile HD remote production center and crew" .
During the beta testing of his Pride Live model, Andrew and his team began utilizing Ustream's versatile Broadcaster Pro software to produce and stream online multi camera, multi angle events and live performances in several nightclubs, and major GLBT/Pride events in south Florida including white party, Miami Beach Gay pride, Summerfest, and Aqua Girl to name a few. "The software is efficient, user friendly and built in with impressive effects and tools, all while tying in social media and a user base" ,says Richardson on the Ustream Broadcast platform. The scope and quality of content of Richardson's productions caught the attention of Ustream content team, garnering several of his live broadcasts, a spot on the site's prime homepage stream.
With this model in place, and several organizations inquiring on collaborating with Pride Live on broadcasting their event, the team knew they were ready to strike up a dialogue with Ustream regarding partnering up help reach the LGBT audience who don't truly yet, have options for Live Global broadcasting entertainment celebrating and benefiting the LGBT community directly .With the recent success of YouTube's live streaming events, particularly to niche audiences that, channels such as UMF TV (whose views would average 8 million hits per broadcast) attract in record breaking numbers. Ustream the leading technology platform for live video streaming, actively seeks content providers with untapped audiences to provide unique content to niche audiences, and continues to do so successfully. Within a few conference calls and think tanks, A partnership was formed between Pride Live World Wide and Ustream, making them the first major user driven streaming site to partner with a GLBT global live streaming event content provider.
Through this partnership, Pride Live World Wide can reach more viewers globally. Ustream brings its massive social media following with over 1, 900,00 active follows and fans, and 60 million unique visitors to the site per month along with their streamlined interface and social media integration.
"I truly believe these partnerships were meant to happen as they did. Just days ago we found out that DOMA and Prop 8 are dead. A true milestone in the civil rights movement. We simply aren't providing entertainment, we are providing a platform and outlet to reach millionsof people all over the globe who are still fighting for equality and basic human rights. All while giving back to the leaders who are fighting for all of us. Full circle, all of the elements have fallen into place ,and the fully realized Pride Live Experience is proud to produce a memorable show with one of the largest Pride organizations in the country, NYC Pride 2013. There is an absolute buzz on social media regarding the recent supreme court ruling setting the tone for the entire pride weekend and the jubilee in the air is overwhelming, this is what Pride was all about. We are honored to be the vehicle to share the experience online."
"The Pride Live model uses the integration of Audio, Video, multiple cameras, live playback and live directing combined with multiplatform social media driven interactive technology creating a 4th dimensional experience the LGBT community has never experienced. No matter where you are you can Watch, Chat, Login, Join the conversation, share, like, Dance, laugh, be proud and know that you're giving back to NYC Heritage Pride, INC." Adds Richardson.
The live show begins at 12:00 noon sharp With special content and debut surprises exclusively being aired during the stream online. Hosted by Noel Leon and Kitty Meow. The stream is $7.99 Super payperview, for the super definition broadcast, which can be accessed on mobile devices and tablets.
A Global online chat room to join the conversation and comment online using either your twiiter account or faecbook. #NYCPride #Prideliveworldwide | @NYCpride @pridelive You can access all information by simply visiting http://www.PRIDELIVE.TV