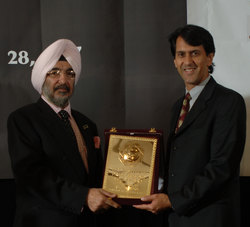 Rockville, MD (PRWEB) October 2, 2007
MailerMailer's CEO Raj Khera (in picture on right side) was honored with this year's Pride of India Gold Award last Friday evening, September 28, 2007, as an Indian-American business leader in a gala event held in Rockville, Maryland by the NRI Institute of India. The award recognizes people of Indian origin for outstanding achievements in their chosen fields and for public service contributions toward the economic development of India and their country of residence.
Khera was one of just 24 people selected out of hundreds of nominations the Institute received. Over 400 leaders in business, government, and education from all over the world attended the gala to witness Deputy Chief of Mission Ambassador Raminder Singh Jassal from the Embassy of India presenting the awards.
Khera is co-founder of MailerMailer, a leading email list management service that enables customers to create and track opt-in email newsletters and marketing campaigns. The company has grown since 2001 to serve thousands of customers worldwide.
Prior to MailerMailer, he co-founded GovCon in 1995, which he grew to be the largest business-to-government web portal before selling it in 1999 to a publicly traded firm. His company also runs MoreBusiness.com, an award winning web site for small business owners, which is regularly lauded as one of the best sites for entrepreneurs.
Mr. Khera holds B.S. and M.S. degrees in electrical engineering from the University of Maryland and serves as the Chairman of the Board of Visitors for the University of Maryland College of Math, Computer and Physical Sciences.
About MailerMailer LLC
MailerMailer LLC is a leading email list management service provider with thousands of customers worldwide. Its easy-to-use tools allow users to create, send and track professional email newsletters and marketing campaigns. MailerMailer is part of a series of sites run by Khera Communications, Inc., which includes discussion group management tool, DiscussThis, and small business resource site, MoreBusiness.com.
###