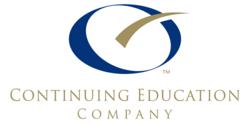 The agenda for the Essentials in Primary Care Winter conference features a good balanced presentation of the many diagnostic issues that primary care physicians face on a daily basis. -- Barbara Lyons, VP CEC
Palm Coast, Florida (PRWEB) November 29, 2012
Considered a leader in live continuing medical education CME conferences, Continuing Education Company, Inc.(CEC) is an independent, non-profit, 501 (c)(3) continuing medical education organization who has been developing and presenting continuing medical education programs for over 21 years. Their mission is to develop and provide educational opportunities to improve the skills and knowledge of medical and healthcare professionalsby offering American Academy of Family Physicians (AAFP) accredited CME lectures, symposia, and conferences. Their educational activities are developed with the guidance of Continuing Education Company's Curriculum Advisory Committee. The committee is comprised of physicians, pharmacists, educators who have extensive clinical and CME experience.
As a result of this live continuing medical education (CME) Essentials in Primary Care Winter conference being held at the Marco Island Hilton February 4-8 2013, participants will be able to discuss the clinical presentation of the common disorders seen in the primary care, identify the role of the family physician in the management of these common problems, utilize current advances in the diagnosis and treatment of these common problems, using whenever possible, an evidence-based approach and interact and question nationally acclaimed speakers on a variety of common clinical scenarios from medical practice.
Barbara Lyons, VP of Marketing, says "The agenda for the Essentials in Primary Care Winter conference features a good balanced presentation of the many diagnostic issues that primary care physicians face on a daily basis."
The agenda is as follows:
Monday February 4 2013:
Current Perspectives on Strategies to Prevent Progression of Chronic Kidney Disease
Controversies in Hypertension Management
Evaluation and Diagnosis of Skin Cancer
Papulosquamous Disorders
Tuesday February 5, 2013
Office Orthopedics for the Primary Care Physician
Session 1: Shoulders - Issues, Exams, Injections
Session 2: Back Pain - Diagnosis and Management Techniques
You too can be a Hepatologist!
Five Things I Wish I Knew Last Year
Wednesday February 6, 2013
Primary Care Management of Gout
Adult ADHD
Update on Viral Hepatitis
Drug-Induced Liver Injury
Thursday February 7, 2013
Menopause, the issues
Screening for Breast Cancer
Using Evidence-based and Cost Effective Drug Therapy
Dyslipidemia
Friday February 8, 2013
Heart Failure
Atrial Fibrillation and Stroke Prevention
New Drug Updates
Visit the Continuing Education Company's website for more information on this and all their other live CME conferences for 2013.