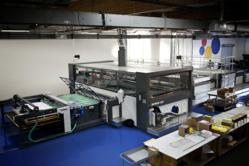 Our initial test prints had a smooth ink lay down and the reds are the best I have seen in a long time
Costa Mesa, California (PRWEB) November 29, 2011
Primary Color is very excited about their new partnership with AGFA/Thieme and the purchase of the new :M-Press Tiger. This hybrid press utilizes digital print technology for 4 color process with an inline silkscreen unit. The :M-Press Tiger is the only hybrid printing press in North America with an optional inline screen printing unit that can print primers, varnish, spot color, gold, silver and white printing as well as thermal scratch-'n-sniff inks with no loss in productivity.
At 175 impressions per hour and a print area of 62" x 102", the :M-Press Tiger can handle any size job, in short order, on virtually any substrate that can be sheeted, and measures between 0.007"and 0.39" thickness (80# cover paper stock to 1/8" thick substrates). Variable data workflows are integrated with the :M-Press allowing Primary to include variable data elements for the Packaging and POP markets.
As digital printing technology improves with quality and speed, the gap is closing between digital, screen and lithography. Primary Color strives to meet their clients needs for bigger, faster, better, and they evaluated the available options in the marketplace for digital, screen and litho. They saw the :M-Press Tiger as a perfect match for them.
"Our initial test prints had a smooth ink lay down and the reds are the best I have seen in a long time. The press is color managed to a G7 environment and to all our other devices. I have to say the :M-Press is amazing and I believe it is going to change the print world," mentioned Dan Hirt, Primary's President.
Primary Color will be a hosting an Open House this December 8th from 3:00pm to 9:00pm and is free for anyone who would like to attend. Those who want to learn more about the :M-Press Tiger or want to tour Primary's industry pioneering print facility are encouraged to register here.
About Primary Color:
Primary Color's mission is to provide superior graphic communication products and services by focusing on technological innovation and environmental sustainability while implementing a culture of personal and corporate integrity.
# # #