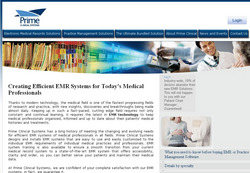 Although there are a wide variety of EHR products on the market, adoption rates remain low, especially among small and solo physician practices
Pasadena, California (PRWEB) April 29, 2009
Prime Clinical Systems, Inc. is participating in the 2009 American College of Physicians' (ACP) EHR Partners Program (EPP). The initiative is designed to help physicians and their practices effectively compare electronic health records (EHRs), and, as a result, more quickly reap the clinical and financial benefits associated with these EHR systems.
"With the federal government offering financial incentives for information technology adoption through the American Recovery and Reinvestment Act, physician practices now, more than ever before, need to quickly make decisions about electronic medical record systems. With this program, physicians can be sure to select the right system for their practice; one that they will be able to quickly implement and one that will bring about the meaningful use of technology being required by the government. And, we believe that many practices will find Prime Clinical's Patient Chart Manager offers just what they need," says Richard Deits, M.D., Prime Clinical's Vice President of Electronic Medical Records.
Physicians and practice management executives can turn to the EPP to get detailed comparative information regarding Prime Clinical's product and that of the other participating vendor:

Ease of Use
Functionality
Negotiation/Contracting
Go-Live
Implementation - Installation
Implementation - Configuration
Implementation - Testing
Training
Maintenance
Interfaces
ACP members can access vendor-specific data regarding these system attributes as well as a comparison tool at acponline.org.
Patient Chart Manager stands out from other EHR systems because of its broad range of easy-to-use features. The system can be customized for individual specialties and to meet the preferences of individual physicians. For example, physicians can choose to enter notes by clicking on drop down templates, writing with a stylus or dictating directly into a voice recognition system. Prime Clinical also provides its technology with many features at no additional cost. For instance, integrated back scanning and auto filing capability for new and existing charts as well as built-in e-mailing and faxing capabilities are standard features.
"Although there are a wide variety of EHR products on the market, adoption rates remain low, especially among small and solo physician practices," said Jeffrey P. Harris, MD, FACP, president of the American College of Physicians. "The EPP is designed to help doctors and their practices research and compare various EHRs by providing information that would otherwise be difficult to obtain. We hope this tool helps practices narrow their list of EHR products -so they can focus their attention and make the right decisions."
For more information on this initiative, visit PrimeClinical.com.
About Prime Clinical Systems
Prime Clinical Systems, Inc. is a medical software company headquartered in Pasadena, California. Founded in 1983, the company's proven products, services and innovative advances have made it one of the fastest growing providers of health care and EMR software systems in the nation.
About the American College of Physicians
The American College of Physicians is the largest medical specialty organization and the second-largest physicians group in the United States. ACP members include more than 126,000 internal medicine physicians (internists), related subspecialists, and medical students. Internists specialize in the prevention, detection, and treatment of illnesses in adults.
###