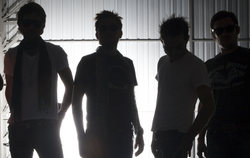 Quito, EC (PRWEB) February 23, 2009
Sometimes life takes you too far, so far in fact, that you don't even realize it happened. Ernesto and Nacho were both taken too far; they had a choice to make: either quit or face the music. They did the latter, resulting in a 12 track album coherently named, Take a Ride; the debut album of the Prime Ministers, to be released on March 15th and produced by David Dominguez.
The album covers emotional states that are commonplace for most of us: rage, desperation, isolation, euphoria. Yet the most important aspect of it is that it never gives up or conforms. Its lyrics put up a fight, and after going through it all it becomes clear that it ends victorious.
Tracks like Dead Man Walking, Under Your Spell and Korny Love demonstrate that the band's mainstay is their unrelenting devotion to rock bands of the '80s and early '90s simple melodies and straight-forward lyrics that will immediately find their place in the hearts and minds of the audience.
On the other hand, tracks like Who I Am, Standing and I Have to Stop add a necessary quota of creative diversity. These songs, that directly contribute to the bands aesthetic, yet executed with different resources, proves that Take a Ride is just the beginning of the bands insatiable artistic curiosity.
Seeking to satisfy this curiosity, Ernesto and Nacho went looking for the best in regards to the technical aspects of the album, seeking out Randy Staub and George Marino, who have, at some point, mixed and produced such iconic rock bands as Metallica, Bon Jovi, AC/DC and Guns n' Roses; as well as the successful Coldplay and Arctic Monkeys, two bands that are redefining the pop/rock movement of the 21st century. Prime Ministers ultimately put the finishing touches to Take a Ride in the world renowned Sterling Sound in NYC.
Smoking Monkeys, the band's first single, is a track which could be easily found making a concert hall sway to its rhythm or in the limelight of a fashionable night club. Producer Franz Córdova and director José Antonio Martínez, both Ecuadorian, took the greatest challenge when they decided to honor A Clockwork Orange, Stanley Kubrick's most memorable film. To top it all off, the video (http://www.primeministers.net) also shows off one of Argentina's greatest assets in the form of super model Inés Rivero, who has graced the pages of magazines like Maxim, Vogue, and even the Victoria's Secret catalogue where she recently became one of their signature buxom Angels.
Going even farther, the band chose Ecuadorian artist James Verdesoto, who designed the movie posters for such films as Pulp Fiction, the Oceans trilogy, The English Patient, and Y Tu Mama También, to design Take a Ride's cover art. This would be the first time that the artist would get take the opportunity to embark in the world of music.
Smoking Monkeys rocks
Everything is in its right place. It's time to unveil Take a Ride and what better place to do it than in Ecuador. All that's left is to hop on and enjoy the ride.
# # #