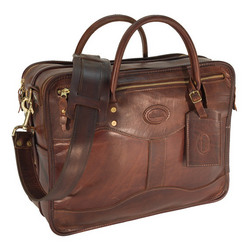 We began to see pre-orders for this product as soon as the email announcement went out to our customers
St. Paul, MN (PRWEB) July 1, 2008
J. W. Hulme Company has announced new Exclusive Premier Edition Bags. Starting with the new Heritage Overnight Briefcase planned for autumn 2008, J.W. Hulme will offer select seasonal product previews. These bags will be offered on a pre-order basis and will be among the first handcrafted by their artisans. Each bag will be individually embossed with a unique number and be accompanied by a Limited Edition Certificate of Authenticity.
This first Premier Edition offer - Heritage Overnight Brief - is an addition to the recently released and immensely successful Heritage Collection, which includes luggage and sporting accessories. Styles in this line are crafted with distressed full grain leather and include handbags, a document case, folio, duffle bag, gladstone bag, shell bag, shell pouch and gun cases. New for 2008, these bags are each hand tooled and buffed to bring out the rich and unique leather tones of antique, well-aged leather.
The Premier Edition is a response to serious J.W. Hulme collectors who wanted to be the first to own a new bag in the styles they are collecting. "We began to see pre-orders for this product as soon as the email announcement went out to our customers," says Jennifer Guarino, President of Product, Sales & Marketing for J. W. Hulme Company. People who are interested in receiving Premier Edition announcements can sign up for the e-mail updates at the J. W. Hulme homepage.
The J. W. Hulme Company's successful formula of providing its craftsmen the finest American made materials bucks the manufacturing trend of outsourcing production of such soft goods. The result is quality products worth the premium that they command.
J. W. Hulme Company was founded in 1905 to make canvas products. Seventy-five years later the first bag was inspired by an heirloom bag owned by the grand-father of the company's chief designer, Norton Cross. They began manufacturing a line of sporting bags sold under the Gokey and Orvis brands. In 1996 the company dedicated itself to preserving and broadening the luggage collection by designing, producing and branding the line under the J. W. Hulme Company name. Products are sold to devoted customers through retail outlets, the catalog and the company's website. Each year has seen new innovations in design and materials, while making a statement of traditional elegance.
###