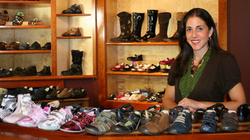 Fairport, NY (PRWEB) September 28, 2009
The same standard of quality that Italian mothers enjoy when searching for "scarpe per bambini" can now be found by all busy moms searching for kids' European shoes by shopping at The Little Shoe Boutique.
A stay-at-home mother and registered nurse visiting family in Italy was thrilled to discover stylish, quality shoes for her children's healthy growing feet. Now she is announcing the grand opening of the Little Shoe Boutique, LLC. Currently displaying their Fall/Winter 2009, littleshoeboutique.com sells one of the largest collections of PRIMIGI youth shoes and will be introducing the GEOX and Lelli Kelly shoes in Spring 2010.
"I am extremely excited about finally sharing with other mothers fine quality kids' European shoes for their children with the latest trends and fashion for both girls and boys of all ages. For years, trying to find a good shoe for kids, not to mention an 'attractive' one, was close to impossible ... especially for boys!" explains co-owner Michelle Passalacqua. "After discovering them for myself, and having received numerous compliments from other mothers, I knew in my heart what my passion was ... to be the largest retailer of Italian shoes online for children of all ages. Through littleshoeboutique.com, I can share with those in my hometown and around the world one of the largest selections of the finest quality shoes for little growing feet."
The Little Shoe Boutique, LLC offers kids' European shoes, boots, Mary Janes, loafers, sandals, sneakers, and more. Moms shopping - whether for "Phoebe" PRIMIGI girls' shoes, PRIMIGI boots, or PRIMIGI toddler sandals - can enjoy free shipping and competitive prices.
Noting how overwhelming it was to shop at busy or complicated websites, especially when looking for certain children's sizes or styles, owners Michelle and Massimo Passalacqua were deliberate about the design of the online shoe store.
Michelle Passalacqua says, "I never had time to browse and shop for what I was looking for at big online shoe stores, so we created The Little Shoe Boutique website with busy moms in mind. Shoe details are easy to see without having to enlarge images, and you can view more that one pair of shoes at a time as you browse. We want our customers to have a pleasurable shopping experience at our unique, modern little boutique!"
About The Little Shoe Boutique:
The Little Shoe Boutique sells fine quality European children's shoes at a pleasurable and convenient shopping venue, including a full range of PRIMIGI styles and sizes, from infant to teens.
PRIMIGI youth shoes have been appreciated by Italian mothers for more than 30 years for attractiveness and reliable quality. Mothers who have discovered PRIMIGI appreciate their excellent fit and flexibility. The shoes are notably lightweight and feature a removable, washable "Sky Effect System" insole.
Lelli Kelly and GEOX shoe brands will be available at littleshoeboutique.com in the spring of 2010, and plans are underway to introduce additional Italian brands in the coming year.
###