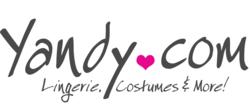 PHOENIX, Ariz. (PRWEB) October 23, 2012
While Prince Charming and "Happily Ever After" are generally reserved for little girls fairytales, many adult women have opted to don sexier versions of fairytale princesses from online retailer, Yandy.com, this Halloween. Tiaras and over-sized skirts are seemingly not only reserved for little girls anymore.
While Yandy.com, online retailer of Halloween costumes, offers a wide variety of grown up popular princess costumes for shoppers to choose from. Some of the most popular costumes are Belle costumes, Cinderella costumes and Snow White costumes to name a few. With more than 100 styles to choose from, Yandy.com has something for every want-to-be princess this Halloween.
Some of the most popular princess costumes this year are easy to spot at Yandy. The Sultry Snow White costume, featuring a blue sequin corset with a sweetheart neckline, yellow tutu skirt, arm puffs and hair bow, and the Enchanting Beauty costume, which includes a yellow sequin corset top with tulle trim, rosette appliqué, yellow tutu and satin mini skirt and arm puffs are among the top of the popularity list at Yandy.com this Halloween.
In addition, Yandy's prices will not make shoppers cash in their glass slippers. For as low as $29.95 Yandy shoppers can don their favorite fairytale femme fatale this Halloween and still have money left over for a second costume.
Not only are there so many fairytale princess costumes to choose from, Yandy shoppers also receive free, flat rate shipping on orders over $70 and every order receives a free panty.
About Yandy.com
E-commerce is on the rise and Yandy.com is one of the largest online retailers of lingerie, sexy Halloween costumes, swimwear and clothing on the web. Founded in 2003, Yandy boasts more than 6,500 products always in stock at easily affordable prices. Yandy ensures that every customer will receive a safe, secure and private online shopping experience and is backed by COMODO online security and Google Checkout. Yandy is dedicated to customer service and only sells what is in stock which allows for quick, same day shipping. Offering the highest quality products at the most affordable prices in the market, Yandy has become a leader in ecommerce. Yandy works closely with all of the manufacturers they distribute for and hand select all of the items on the Web site to ensure customers have the largest and most diverse collection to choose from. In addition, the customer service team at Yandy is unrivaled. With attentive and helpful operators, should a question or problem arise, the customer service team at Yandy is always willing and able to assist. At Yandy, every customer can Be Sexy.
###