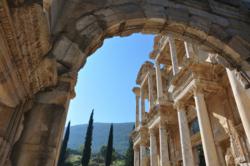 The judges were amazed by the staggering number of great images that were entered in this contest.
Santa Clarita, Calif. (PRWEB) May 23, 2012
After sorting through the more than 57,000 cruise vacation photos that were submitted to the Princess Cruises "1,000 Memories at Sea" photo contest, judges have chosen an image of the soaring columns of Ephesus submitted by Christine Svircev of Illinois as the grand prize winner.
The winning photo depicts the grandeur of the ruins of the ancient city of Ephesus, a landmark archaeological site in Turkey. As the winner, Svircev has won a cruise for two aboard the new Royal Princess, which debuts next year.
An additional 999 images were also chosen by the judges, and all 1,000 photos will be displayed on the walls of hallways between staterooms and in other locations aboard Royal Princess, when the cruise ship sets sail in June 2013. A special web page showing all winning photos is available at: http://www.princess.com/royalprincesscontest
"The judges were amazed by the staggering number of great images that were entered in this contest," said Rai Caluori, Princess' executive vice president of fleet operations. "We didn't have an easy time, but in the end we think the 1,000 photos that were selected are certainly worthy of being immortalized on the ship. We hope all the winners have a chance to sail aboard Royal Princess and enjoy discovering where their photos are displayed."
Contest judges included Caluori, Teresa Anderson, the line's vice president of interior design, and Ian Johnson, director of photography and video for Princess.
The 3,600-passenger Royal Princess is a new-generation ship currently under construction for Princess Cruises. In addition to the 1,000 winning photos displayed on board, the ship will feature a 50 percent larger atrium which is the social hub of the ship; a dramatic over-water SeaWalk, a top-deck glass-bottomed walkway extending more than 28 feet beyond the edge of the vessel; plush private poolside cabanas that appear to be floating on the water; a dazzling water and light show; the new Princess Live! television studio; a new pastry shop; more dining options including a special Chef's Table Lumiere, a private space that surrounds diners in a curtain of light; and balconies on all outside staterooms. The ship's 2013 maiden season will include cruises on the line's signature Grand Mediterranean itinerary throughout the summer, followed by Eastern Caribbean cruises beginning in the fall. More information and video previews of the ship are available at http://www.princess.com/royalprincess.
Additional information about Princess Cruises is available through a professional travel agent, by calling 1-800-PRINCESS (1-800-774-6237), or by visiting the company's website at http://www.princess.com.
About Princess Cruises:
One of the best-known names in cruising, Princess Cruises is a global cruise and tour company operating a fleet of 16 modern ships renowned for their innovative design and wide array of choices in dining, entertainment and amenities, all provided in an environment of exceptional customer service. A recognized leader in worldwide cruising, Princess carries 1.3 million passengers each year to destinations around the globe ranging in length from seven to 107 days. The company is part of Carnival Corporation & plc.
Princess Cruises is a proud member of World's Leading Cruise Lines. Our exclusive alliance also includes Carnival Cruise Lines, Holland America, Cunard Line, Costa Cruises and Seabourn. Sharing a passion to please each guest and a commitment to quality and value, World's Leading Cruise Lines inspires people to discover their best vacation experience. Together, we offer a variety of exciting and enriching cruise vacations to the world's most desirable destinations. Visit us at http://www.worldsleadingcruiselines.com.
Find us:
Blog: InspiredToCruise.com
Facebook: facebook.com/PrincessCruises
Twitter: twitter.com/PrincessCruises
YouTube: youtube.com/princesscruises
Flickr: flickr.com/photos/princesscruises
Pandora: princess.com/radio
Newsroom: princess.com/news
Google+: plus.google.com/112949289750199509638/posts
For further information contact:
Karen Candy, kcandy(at)princesscruises(dot)com, 661-753-1540
Julie Benson, jbenson(at)princesscruises(dot)com, 661-753-1530
# # #