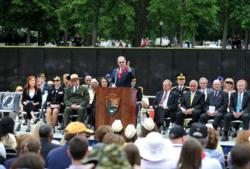 We're honored to play a role in helping to preserve veterans' memories for future generations.
Santa Clarita, Calif. (PRWEB) May 29, 2013
Representatives from the Veterans History Project will be sailing aboard Princess Cruises' first veterans cruise in November to facilitate the recording of first-hand interviews with passengers who served during times of conflict. These stories will be added to the Project's ongoing collection of wartime memories that are preserved and made accessible by the Library of Congress.
Princess Cruises president and CEO Alan Buckelew kicked off the initiative yesterday in Washington DC by recording his own story as a soldier in Vietnam. Buckelew was in the nation's capital to speak at the Memorial Day ceremony at the Vietnam Veterans Memorial Wall.
Throughout this special voyage departing November 5, veterans will be offered the opportunity to be recorded on video to capture as many first-hand accounts as possible. In addition, the professionals from the Library of Congress will be onboard to train passengers to record the histories of their family and friends who have served. Passengers will get tips on how to record the histories and learn to preserve these important stories for posterity.
"It's so important to record the wartime experience from many points of view, and we're pleased that representatives from the Veteran's History Project will be with us to capture remembrances from as many of the veterans cruising with us as possible." said Buckelew. "We're honored to play a role in helping to preserve veterans' memories for future generations."
The Veterans History Project (VHP) of the Library of Congress American Folklife Center is primarily an oral history program that collects and preserves the first-hand interviews of America's wartime veterans. VHP relies on volunteers, both individuals and organizations, throughout the nation to contribute veterans' stories to VHP. In addition to audio- and video-recorded interviews, VHP accepts memoirs, collections of original photographs and letters, diaries, maps, and other historical documents from World War I through current conflicts. More information about the project is available at: http://www.loc.gov/vets/.
Princess' first-ever fundraising cruise will sail November 5-9, 2013 roundtrip from Houston aboard Caribbean Princess to the Western Caribbean. The sailing is expected to generate $1 million for two organizations committed to U.S. veterans – Vietnam Veterans Memorial Fund Inc. and Operation Homefront Inc. In addition to the Veterans History Project, a number of special guests will be aboard, including former chairman of the Joint Chiefs of Staff, Admiral Michael Mullen (Ret.); retired senior officers from the Army, Navy, Coast Guard and Air Force; an award-winning war correspondent; and other respected speakers, authors and panelists. More information and the latest line-up of special guests can be found at http://www.princess.com/cruisingforacause/.
The cruise will offer passengers the opportunity to honor those who have served in the military as well as active duty military personnel. In addition to the line-up of impressive military guests and speakers, there will be special performers, celebrities, unique topic panels and a military film festival. Princess will offer onboard activities such as a Stars and Stripes Sailaway, a military themed show, a Red, White and Blue Gala, and more – to celebrate U.S. veterans.
Cruise fares range from $549 to $1,649 per person based on double occupancy. A portion of each passenger's cruise fare expected to reach approximately $500,000 will be matched by Princess Cruises for a total of $1 million earmarked for the two veterans' organizations to share equally. As part of Princess' ongoing Military Cruise Benefit Program, active and retired military personnel choosing to book this cruise will receive a $50 onboard credit.
The cruise launches Princess Cruises' new "Cruising for a Cause" initiative where the company will dedicate entire sailings to support select charitable causes. This new, industry-leading program will provide the line's passengers, many of whom are looking for opportunities to make positive contributions to their communities and the world, a way to make a difference even as they vacation.
Additional information about the special "Cruising for a Cause" sailing supporting U.S. veterans can be found at princess.com/cruisingforacause or by calling 1-800-PRINCESS.
# # #
About the Veterans History Project:
Congress created the Veterans History Project in 2000 to collect, preserve and make accessible the first-hand remembrances of America's war veterans from WWI through the current conflicts, so that future generations may hear directly from veterans and better understand the realities of war. For more information, visit http://www.loc.gov/vets or call the toll-free message line at (888) 371-5848. Subscribe to the VHP RSS to receive periodic updates of VHP news.
About Princess Cruises:
One of the best-known names in cruising, Princess Cruises is a global cruise and tour company operating a fleet of 16 modern ships renowned for their innovative design and wide array of choices in dining, entertainment and amenities, all provided in an environment of exceptional customer service. Two ships are under construction and will join the fleet in 2013 and 2014. A recognized leader in worldwide cruising, Princess carries 1.3 million passengers each year to destinations around the globe ranging in length from three to 107 days. The company is part of Carnival Corporation & plc.
Find us:
Newsroom: princess.com/news
Facebook: facebook.com/PrincessCruises
Twitter: twitter.com/PrincessCruises
YouTube: youtube.com/princesscruises
Pinterest: pinterest.com/princesscruises
Instagram: instagram.com/princesscruises
Flickr: flickr.com/photos/princesscruises
Pandora: princess.com/radio
Google+: google.com/+princesscruises
Blog: LinkedByTheSea.com
For further information contact:
Karen Candy, kcandy(at)princesscruises(dot)com, 661-753-1540
Julie Benson, jbenson(at)princesscruises(dot)com, 661-753-1530