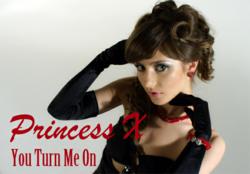 "Cute! You get 110 percent!" - Steven Tyler
Los Angeles, CA (PRWEB) June 28, 2011
A phallic shaped sculpture by Romanian sculptor Constantin Brancusi has inspired a former American Idol contestant to take on her new stage name: Princess X. Brancusi's scandalous sculpture was revealed to be Princess Marie Bonaparte, a French author and psychoanalyst closely linked with Sigmund Freud. The singer Princess X was revealed on Wikipedia as Inessa Lee, a most memorable American Idol 2011 contestant to whom Steven Tyler said "Cute! You get 110 percent!"
Touted by MTV News as a "sexy video vixen," Princess X has released a music video on YouTube for her new steamy dance-pop single "You Turn Me On" co-written by Grammy Award nominated producer Mike Burns best known for his work on "Interstate."
A departure from her previous songs that employ syncopation and polyrhythm, Princess X's "You Turn Me On" combines dance-pop with dubstep by Johnny Reyes and a club remix by Grammy Award nominated composer Luigie Gonzalez best known for his remix hits of Shakira's "La Tortura," Madonna's "Hung Up," Gwen Stefani's "Rich Girl," and TaTu's "Friend or Foe," to name a few.
Princess X has, once again, shown her X factor in the new dance-pop music video "You Turn Me On" currently available on YouTube. A club remix single and its accompanying music video are scheduled to release in July 2011.
###